The humanities develop informed and critical citizens. Without the humanities, democracy can't flourish. Denying the humanities to those who cannot afford to study them is a form of social injustice. It is discriminatory.
Below: Public Books is an online multimedia site affiliated with the print journal Public Culture. Public Books is created by and for a transnational community of writers, artists, and activists. Reviewer/author Simon During is an Australian Research Professor at the University of Queensland. He is currently working on the relationship between religion and literature, with a special interest in Anglicanism and the development of the novel. His most recent book is Against Democracy: Literary Experience in the Era of Emancipations (2012).
Stop defending the humanities
Review essay by Simon During Public Books USA March 1, 2014
Whatever things the humanities do well, it is beginning to look as if promoting themselves is not among them. I say this after having read widely across the rapidly accumulating literature in defense of the humanities, to which this book loosely belongs. Strictly speaking, The Humanities and Public Life is a record of a seminar on the ethics of reading organized by Peter Brooks at Yale, but whose participants (all of them well-known and formidably accomplished scholars) often found themselves moving into exactly the "defense of the humanities" mode that enabled someone—I assume the publisher—to present the book under a slightly misleading but presumably marketable title.
It turns out that the humanities' defensive accounts of themselves have some rather curious features. In particular, they tend to pass quickly over what we tacitly know about them as a matter of fact, turning instead to the sermonic. And in insisting on the humanities' value for society and culture as a whole, these accounts routinely fail to confront their own interest in making this case.
What do we tacitly and neutrally know about the humanities? We know that they exist as a combination of different academic disciplines, which, at least in the US, are often housed in university departments and thereby bound to the university system's larger bureaucratic/professional structures.
We know that each discipline has its own history; its own mix of instrumental and noninstrumental purposes and functions; its own methods and topics; its own set of values; its own tolerance (or lack thereof) of positivist methods and knowledge.
It is important to remember what is obvious—that the humanities contain many disciplines—to forestall arguments that promote practices that belong just to one discipline as definitive of the whole. So that, for instance, neither close reading (as here argued for by Peter Brooks), nor ideology critique (as here argued for by Judith Butler in a subtle essay that asks us to ask "what is the value of our values," as if such exist), nor the deployment of paradigms of interpretation and meaning, nor even creative openness to the contingencies and surprises of encounters with others (as here invoked by Jonathan Lear) can be used to define and defend the humanities as they exist as a whole. Indeed the humanities are not the kind of thing that can be defended by reference to a single practice or even set of practices, a single value or set of values.
We know, further, that the humanities in their modern Western form were established quite recently—around the end of the 19th century. They are only very loosely connected to those older humanisms that appeared in the ancient, early modern, and Enlightenment eras. And we know that the modern humanities have taken different forms in different nations: it is a matter of some argument whether the academic humanities as they have developed in Anglophone nations have strict equivalents even in France, Spain, Italy, and Germany, let alone in China or Japan.
We also know that the Western humanities expanded at the beginning of the second half of the 20th century under a regime we can call social capitalism. Especially after World War II, many states subsidized the humanities as they sought to make higher education available to a larger proportion of the population in an effort to increase social mobility. And we are becoming increasingly aware that this element of the social capitalist compact is fraying under neoliberalism, as a humanities education comes to be viewed just as a private rather than as a public good. One example: in 2010, in a sobering move few saw coming, the UK Tory government, in deregulating university fees, simply stopped funding undergraduate teaching in the arts, humanities, and social sciences while maintaining support for engineering, the sciences, technology, and math. …
Related: Curt Rice is a 21-year member of the faculty at the University of Tromsø, Norway. He is a full Professor. Professor Rice is currently on year-long sabbatical writing a book. For this year, he has been designated a Fellow at the Netherlands Institute for Advanced Study. Of himself he says, "My interest in leadership development at universities affects most of what I do, whether it's working on gender balance issues, developing policies about Open Access, promoting research-based education or just about anything else. I'm a professor at the University of Tromsø, where I've spent the last decade serving first as the head of a Center of Excellence (2002-2008) and then as the Vice President for Research & Development (prorektor for forskning og utvikling) (2009-2013). I'm currently a Fellow at the Netherlands Institute for Advanced Study."
Here are 9 reasons why humanities matter. What's your number 10?
Curt Rice curt-rice.com Norway February 25, 2014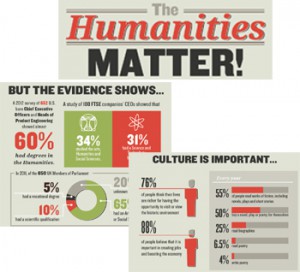 This page contains two embedded links.
Did you know that over two-thirds of humanities majors get jobs in the private sector? Did you know that almost 60% of U.S. CEOs have degrees in the humanities? Did you know that the humanities receive less than 0.5% of federal research money in the U.S. and only about 1% in Europe?
I didn't know these things either until I saw the list of winners of the 2013 Digital Humanities Awards and had a good look at an infographic called The Humanities Matter!
There's research on the impact of the humanities; there's evidence demonstrating how studying the humanities benefits society, employers and individuals.
I'll list here nine arguments that the humanities are important. While you read them, try to think of what you would fill in as number 10.
…
I believe these claims and I know they are based on solid research. I see much more, too. For example, I think that innovations based on research results in the natural sciences and medicine are more likely to be successful if their implementation is carried out in collaboration with humanists.
But for now, let me just say one more thing. The arguments in the list above are quotes. They come from an exciting infographic put together by some creative researchers working in a whole new field called Digital Humanities.
And that leads me to my 10th reason: If it weren't for the humanities, we couldn't have the digital humanities!
What's your best reason for thinking the humanities are important? …