Tony Cartalucci is a Bangkok-based geopolitical researcher and writer.
Turmoil in Hong Kong, terrorism in Xinjiang: America's covert war on China
Tony Cartalucci New Eastern Outlook Russia October 21, 2014
Visit this page for its embedded links.
China is facing increasing pressure along two fronts. In its western province of Xinjiang, terrorists have been stepping up destabilization and separatist activities.
In China's southeast Special Administrative Region of Hong Kong, protests have disrupted normality in the dense urban streets, with protest leaders seeking to directly confront Beijing while dividing and destabilizing both Hong Kong society and attempting to "infect" the mainland.
What is more troubling is the greater geopolitical agenda driving both of these seemingly "internal" conflicts – and that they both lead back to a single source beyond China's borders. With the so-called "Islamic State" (ISIS) now implicated in receiving, training, and employing terrorists from China's Xinjiang province, and considering the fact that ISIS is the result of an intentional, engineered proxy war the US and its allies are waging in the Middle East, along with the fact that the unrest in Hong Kong is also traced back to Washington and London, presents a narrative of an ongoing confrontation between East and West being fought on the battlefield of fourth generation warfare.
…
It is not a coincidence that ISIS is standing in for and fulfilling America's deepest imperial aspirations from North Africa, across the Middle East, and now inching toward the borders of the West's two largest competitors, Russia and China. Nor is it a coincidence that "Occupy Central" protesters [in Hong Kong] are parroting verbatim talking points scripted in Washington earlier this year. It is no coincidence that the US State Department's NED is found involved in every hotspot of instability and conflict both within China's borders and beyond them. It is a documented conspiracy that is now increasingly seeing the light truth cast upon it. Whether or not that is enough to end the unnecessary barbarism and bloodshed that has resulted from the West's hegemonic aspirations remains to be seen.
Jim comment: SOTT (Signs of the Times) is an aggregate news site—the news there comes from hundreds of different websites. But besides the wide selection of news, SOTT also has a team of independent writers and researchers from all over the globe who contribute articles about many different topics. SOOT is not for the faint of heart, nor those that do not at least tolerate 'new agey' sentiments. I have to carefully and critically pick and choose from the site, but I often find solid stuff. And more often than not, that special blend of solid and slightly spacey, such as the post below. Of himself, the author Anenas Georg says: "I'm a train manager and ticket inspector on international train routes in Europe. I've been reading SOTT since 2003 and first joined the editorial team in 2007 after realizing I had to do something about the deteriorating state of our world. I'm particularly interested in 'following the money' to track the machinations of the deceptive ones in high places. I suppose you could say I've taken my chosen profession to a new level, and now with SOTT I'm "inspecting the flows" of people and money in more ways than one."
China is on to U.S. regime change tactics
Aeneas Georg Sott.net International November 17, 2014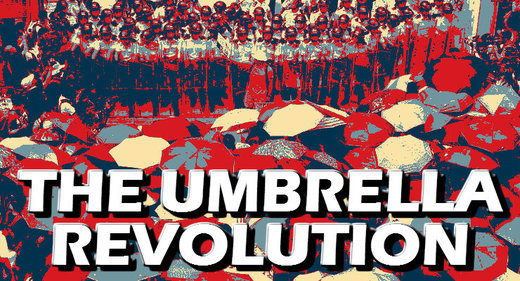 Though it has a new catchy name, the recent "revolution" in Hong Kong followed a very familiar pattern of US engineered regime change and destabilisation. And the Chinese are well aware of it!
Now we know that Russia knows full well the ways and means of 'regime changing' the empire of chaos uses over and over to ensure its supremacy. This was made clear by Putin in his Valdai Club speech:
Incidentally, at the time, our colleagues [the US] tried to somehow manage these processes, use regional conflicts and design 'colour revolutions' to suit their interests, but the genie escaped the bottle. It looks like the controlled chaos theory fathers themselves do not know what to do with it; there is disarray in their ranks.
China has also been subject to attempts at regime change both in the Xinjiang province in West China and most recently in Hong Kong. The question is how aware are the Chinese of the US role in these protest movements? A recent YouTube video makes it abundantly clear that the Chinese read the geopolitical chess game very well, if the views presented also reflect the views of Chinese people generally. The video maps out 12 steps that the US uses for regime change and goes on to explain how these "regime changes" around the world and the antagonizing of Russia and China follow a pattern that could lead to World War III.
The 12 Steps to regime change, employed by the USA as outlined in the video:
…
Anyone who has being paying just a little attention to the world events can recognise this pattern. Psychopaths are not that creative and therefore tend to use the same method again and again. And mostly it works out to the benefit of the psychopaths in power, to whom it doesn't matter if their hand in the regime change is exposed after the installment of a new puppet. The subservient MSM is always on hand to further the propaganda and knock down any objecting views that reveal the hand of the man behind the curtain and can always rely on name calling when arguments are lacking. An example of how this works with regard to the Hong Kong protests can be seen here:
…
Though the video blames it all on the Freemasons, it would be more correct to say the pathological elite. One of the key defining traits of this subspecies is the fact that they have no conscience and therefore care naught about human suffering and deaths. It could even be argued that they relish such suffering.
As always the onus is on us to acquire knowledge and to wake up to this nightmare and the fact that there are predators among us who don't have essential human qualities. This is becoming easier as the empire of chaos, in its desperate battle to maintain hegemony, is showing its true nature for all to see. Thus the emperor is exposed as being naked, something that the BRICS countries and a number of other countries are becoming aware of. There is no doubt that greater cooperation among these countries has helped to spread knowledge about the psychopaths' modus operandi. The above video is an example of the exposure of this pattern.
…