Scotland must look outwards to the world of opportunity that awaits us. A Yes vote is the business and jobs opportunity of a lifetime for this and future generations." - From the open letter signed by 200 leaders of some of Scotland's most productive companies
Business leaders tell Scots to vote no in independence referendum
Martin Williams Guardian UK August 27, 2014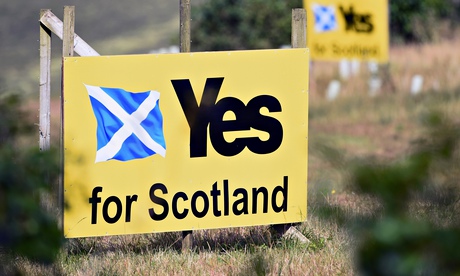 Yes campaign placards in Fenwick, Scotland. Photo: Jeff J Mitchell/Getty Images
More than 120 business leaders have urged Scotland to vote no in next month's referendum, saying the economic case for independence has not been sufficiently made.
In an open letter published in the Scotsman newspaper, they write: "As job creators, we have looked carefully at the arguments made by both sides of the debate. Our conclusion is that the business case for independence has not been made."
Signatories include HSBC chairman Douglas Flint and Co-operative Bank CEO Niall Booker, as well as dozens of Scottish CEOs from business ranging from fish and whisky to technology and finance.
The letter says: "Uncertainty surrounds a number of vital issues including currency, regulation, tax, pensions, EU membership and support for our exports around the world; and uncertainty is bad for business.
"Today Scotland's economy is growing. We are attracting record investment and the employment rate is high. We should be proud that Scotland is a great place to build businesses and create jobs – success that has been achieved as an integral part of the United Kingdom.
"The United Kingdom gives business the strong platform we must have to invest in jobs and industry. By all continuing to work together, we can keep Scotland flourishing."
…
However, former Royal Bank of Scotland chairman Sir George Mathewson, has claimed that financial services in Scotland would flourish with independence. "There is nothing to suggest that being part of a smaller country hinders a financial services industry," he said.
"Switzerland, for example, has – in Geneva and Zurich – not one, but two of the world's top 10 financial centres. Singapore, with five million people, is ranked fourth. Investment is an increasingly global business, where success depends much more on people than on borders."
Scottish referendum: David Cameron makes plea to voters
Nicholas Watt, Libby Brooks and Simon Goodley Guardian UK August 28, 2014
David Cameron will plead with Scottish voters on Thursday not to abandon one of the "oldest and most successful single markets in the world", after the home secretary, Theresa May, highlighted nerves in the pro-union campaign, warning that it needed to redouble its efforts.
As the referendum campaign enters its final stage the prime minister will seek to warn wavering voters of the dangers of separating from the UK by raising the prospect that Scotland's financial services could lose 90% of their business if voters endorsed independence on 18 September.
Cameron will acknowledge that questions over the economy lie at the heart of the referendum campaign when he says that key Scottish industries are underpinned by membership of the UK.
In a speech to the CBI Scotland conference in Glasgow, he will say that 90% of Scottish financial services' customers live in England, Wales and Northern Ireland, while Scotland's computer gaming industry and its "cutting-edge sub-sea technology" benefit from selling across the UK without transaction costs.
His arrival comes as the Scottish first minister, Alex Salmond, receives a boost from 200 business leaders who have signed a letter supporting independence. The signatories include Ralph Topping, the former chief executive of William Hill, and Tom Barrie, managing director of the logistics company Currie European.
Details of the letter emerged a day after 130 prominent business leaders, including the HSBC chairman Douglas Flint, signed an open letter warning that the case for Scottish independence had not been made.
Cameron will tell his audience: "This is one of the oldest and most successful single markets in the world. Scotland does twice as much trade with the rest of the UK than with the rest of the world put together – trade that helps to support one million Scottish jobs.
"For some industries, the proportion of trade with the rest of the UK is even higher – 90% of Scottish financial services' customers are in England, Wales and Northern Ireland. Then there's the world-famous gaming industry, cutting-edge subsea technology and life-saving biomedicine – all selling far more outside Scotland than inside.
"This success doesn't happen by accident. It happens because of the skill of people in Scotland and the opportunities that come from being part of something bigger, a large domestic market, underpinned by a common currency, common taxes, common rules and regulations, with no borders, no transaction costs, no restrictions on the flow of goods, investment or people. Ours really is an economy of opportunity."
But Salmond will seek to build on momentum in the yes camp after the Better Together leader, Alistair Darling, struggled in their final televised debate on Monday night to name job-creating powers that Westminster would be prepared to devolve to Holyrood. The first minister will outline a range of such powers – including control over air passenger duty and employment policy – that would be guaranteed by independence, as he calls on the prime minister to make clear what powers Westminster is prepared to guarantee.
The first minister, who described Darling as "a frontman for the Conservative party", will say: "Scotland is one of the richest countries in the world – wealthier per head than the UK, France and Japan, so we are more than capable of being an economically successful independent country …
…
200 business leaders sign up to say Yes to independence
Herald Scotland Scotland August 28, 2014
You can read the list from the link on this page.
A total of 200 business people have backed independence in an open letter that aims to counter warnings by 130 industry leaders the plans would be bad for trade.
Stagecoach chairman Sir Brian Souter, who has donated £1million to the Nationalists in the run-up to the referendum, engineering tycoon Jim McColl, the chairman and chief executive of Clyde Blowers, and Ralph Topping, the Scottish-based former chief executive of William Hill, lead the list of signatories to the document, which is published in today's Herald.
Read the list here
Other high-profile figures on the list include the Michelin-starred Gleneagles-based chef Andrew Fairlie.
It declares that independence would give the country the powers "to give our many areas of economic strength even more of an advantage in an increasingly competitive world."
It adds they would provide "more opportunities for our talented and determined young people to stay and succeed."
…
Female indy supporters: New BT ad was patronising to women
Herald Scotland Scotland August 27, 2014
Female nationalists have criticised an "insulting" Better Together campaign video which they claim depicts Scottish women as "daft ditherers" who do not understand enough about the independence referendum.
The YouTube video features an actress voicing concerns about independence which Better Together say was drawn from the verbatim comments of women in focus groups and doorstep canvassing.
Better Together urges women to vote No not only for "the love of our country" but for "the love of our families".
But Women For Independence say "the implication that a No vote is the only choice a mother should be making for her children is insulting".
A spokeswoman said: "We think it's disappointing that Better Together decided to portray Scotland's women in this way.
"The narrative suggests that women who are still making up their minds how to vote don't understand enough about the issues to arrive at an informed decision. That is not our experience.
"Women for Independence have spent the last two years listening to women, discussing what matters to them. They are thoughtful, intelligent and articulate.
"The polls show that when they do get helpful information they understand that this is our one opportunity to change their lives, and all our lives, for the better. That's why more and more are moving to voting Yes."
Kirsty Strickland, first-time mother to six-month-old Orla, has said: "The Better Together referendum broadcast was an absolute embarrassment.
"It portrayed women voters as daft ditherers who don't understand the magnitude of the decision they have to make.
"The implication that a No vote is the only choice a mother should be making for her children is insulting."
Launching the video yesterday, Better Together campaign director Blair McDougall said: "The key factor for people isn't the love of our country – as both Yes and No voters love Scotland. The key factor is the love of our families."
He added: "The words spoken in the film are taken verbatim from conversations on doorsteps with undecided women voters and from the opinion of women in dozens of focus groups around the country.
"With so many unanswered questions, more and more of us are coming to the decision that it is just too big a risk to take with our kids' future."