Island Weather
2013.12.10 18:00:34

Cloudy. 40 percent chance of rain showers or flurries early this evening. 40 percent chance of flurries or rain showers before morning. Low zero.
Ferry Schedules

Island Tides

Ganges Hbr. Tides
Search
SaltSpring News

---
The Web
User's Login

Topic: Aquaculture
The new items published under this topic are as follows.
Wednesday, April 17, 2013
Aquaculture
Harvesting snippets from the farmed vs wild salmon debate
Biologist Alexandra Morton unravels the mysteries of BC's declining salmon stocks using some of the world's top fish labs. What she uncovers will surprise anyone who cares about our fish and all that depends on them. This film documents Morton's journey as she attempts to overcome roadblocks thrown up by government agencies and bring critical information to the public in time to save BC's wild salmon. In an endorsement of
Salmon Confidential
, David Suzuki commented, "For years, Alexandra Morton has soldiered on providing evidence of and calling for action on the catastrophic state of wild salmon. Government and industries have thwarted her over and over again. This film clearly documents that governments do not put protection of wild salmon at the top of their priorities and Canadians should be outraged. I am."
We received this media release in our inbox yesterday:
Vancouver Salmon Confidential screening and Q&A with David Suzuki and Alexandra Morton on April 18th
(Vancouver, B.C.) David Suzuki and Alexandra Morton are teaming up on April 18, 2013 to present and discuss the documentary
Salmon Confidential
. Following the hour-long film, the two scientists will engage the audience on the issue of a private industry using public waters to flush salmon feedlots.
When: Thursday, April 18, 2013, 7:00 pm
Where: Stanley Theatre, 2750 Granville Street, Vancouver BC
Tickets are $10 from
Vancouvertix
.
Box office: 604-629-8849
The film highlights the troubling relationship between this industry and what this issue is costing our economy. Suzuki and Morton will also explore the opportunity B.C. has to bring back our wild salmon economy. All B.C. candidates should see this film as the Provincial government is the landlord to this industry. ...
The
Salmon Confidential
film tour continues throughout B.C. with screenings and discussions hosted by Alexandra Morton and filmmaker Twyla Roscovich.
Visit SalmonAreSacred.org/calendar for a complete list of screening dates and locations.
If you are unable to attend a screening, the documentary can be viewed at www.SalmonConfidential.ca.
Salmon Confidential—How a Canadian government cover-up threatens your health, and the entire ecosystem
Dr. Joseph Mercola
Mercola.com
USA April 13, 2013
Many environmental experts have warned about the unsustainability of fish farms for a decade now, and we have documented those objections in many previous articles. Unfortunately nothing has yet been done to improve the system.
As usual, government agencies and environmental organizations around the world turned a blind eye to what was predicted to become an absolute disaster, and now the ramifications can be seen across the globe, including in British Columbia, Canada.
Salmon Confidential
is a fascinating documentary that draws back the curtain to reveal how the Canadian government is covering up the cause behind British Columbia's rapidly dwindling wild salmon population. A summary of the film reads:1
"When biologist Alexandra Morton discovers BC's wild salmon are testing positive for dangerous European salmon viruses associated with salmon farming worldwide, a chain of events is set off by government to suppress the findings.
Tracking viruses, Morton moves from courtrooms, into British Columbia's most remote rivers, Vancouver grocery stores and sushi restaurants.
The film documents Morton's journey as she attempts to overcome government and industry roadblocks thrown in her path and works to bring critical information to the public in time to save BC's wild salmon."
If you think watching a documentary about wild fish sounds boring, this film may well change your mind. It provides sobering insight into the inner workings of government agencies, and includes rare footage of the bureaucrats tasked with food and environmental safety.
It reveals how the very agency tasked with protecting wild salmon is actually working to protect the commercial aquaculture industry, to devastating effect.
Once you understand just how important wild salmon are to the entire ecosystem, you realize that what's going on here goes far beyond just protecting a fish species. Without these salmon, the entire ecosystem will eventually fail, and in case you've temporarily forgotten, you are part of this system, whether you're a Canadian or not...
As explained in the film, a "keystone" species is a species of animal that is essential to the functioning of the ecosystem. It's a species that other animals cannot survive without. In British Columbia (BC), pacific salmon are a keystone species. They fill hundreds of streams and rivers, feeding hundreds of species, including humans. Alas, since the early 1990's, salmon numbers have rapidly dwindled, coinciding with the introduction of aqua farms raising farmed salmon. ...
The ramifications of our large-scale, mass-producing, chemical-dependent food system are incredibly vast, which is why I urge you to become more curious about your food. Where, and how was it raised, grown, or manufactured? These things do matter; for your health, and the health and future of our planet.
Like Morton, I am also very concerned about our vanishing freedoms and increasing "corpotocracy," where citizens are ruled by multi-national corporations with just one goal in mind: Maximizing Profit. A glaring example of this loss of freedom was Bill 37—the inappropriately named "Animal Health Act" which, had Canada made it into law, would have made it a crime to report farm animal disease to the public. Under this bill, informants would face a $75,000 fine and two years in prison simply for naming the location of a disease outbreak. Fortunately, the Act was dropped, but could potentially be revived sometime in the future.
Fish feed-research may help reduce world hunger
Ruth Lothe
ScienceNordic
Norway March 27, 2013
For farmed fish, a new type of food is on the menu: concentrated protein feed from bacteria, yeast or algae.
The natural food for carnivorous fish is other fish. As a result, making plant feed digestible for farmed fish is considered a major breakthrough. In the long term, this could mean that we do not have to use valuable wild fish in fish feed.
"Over the last ten years, we have managed to drastically reduce the fishmeal percentage of fish feed. We have especially worked to introduce plant protein as an alternative to fishmeal without hampering the growth, feed conversion and the health of farmed fish" explains Margareth Øverland, professor of aquaculture nutrition at the Norwegian University of Life Sciences. ...
Øverland presented the sensational results during the annual conference of The American Association for the Advancement of Science, (AAAS) in Boston February.
Wild Alaskan salmon is a powerhouse of nutrition that may help you live longer
Dr. Joseph Mercola
Mercola.com
USA April 15, 2013
Visit this page for its embedded video and appended links.
A slew of media reports encouraging you to eat more fish have surfaced lately, following the publication of a study on omega-3 fats and health. The research, published in
The Annals of Internal Medicine
, suggests that eating oily fish once or twice a week may increase your lifespan.
Naturally, there's still the issue of environmental pollution and contamination, which was not addressed in this study. Do the benefits of eating fish really outweigh the risks of contamination?
In my view, I believe the benefits CAN outweigh the risks, provided you make really wise choices. There are few uncontaminated fish available these days so you need to know what to look for.
Needless to say, toxins like mercury and PCB will not do your health any favors.
Lately, I've shifted my own diet a bit, and am now eating three ounces of Wild Alaskan salmon about every other day. But this is really the ONLY fish I'll eat on a regular basis, and the only one I feel comfortable recommending as a good source of healthful fats.
The featured study investigated how eating fatty fish affected health. Nearly 2,700 American seniors in their seventies were included in the study. None of them had prevalent coronary heart disease (CHD), stroke, or heart failure at the outset of the study.
Rather than rely on food diaries, the researchers measured blood levels of omega-3's instead. Since none of the participants took omega-3 supplements, their levels were indicative of their omega-3 consumption primarily from fish. ...
According to lead author Dr. Dariush Mozaffarian, an associate professor of medicine at Harvard, the reason we need omega-3 is because 95 percent of your cells' membranes are made of fat. Without fats such as omega-3, your cells cannot function properly. He recommends eating one or two servings of fatty fish per week to optimize your blood levels of omega-3. Interestingly enough, the
New York Times
gets quite specific about the types of fish recommended:
"...3.5 ounces of farmed salmon, 5 ounces of anchovies or herring, or 15 to 18 ounces of cod or catfish."
Farmed
salmon?
I think not... That is one of your WORST options, for a number of reasons that I will detail below. Cod and catfish also primarily come from aquatic fish farms these days. Unfortunately, fish farming has become big business, and a protected one at that. To learn more about this sad state of affairs, please see my recent article on the film
Salmon Confidential
, which details how salmon farms threaten the entire ecosystem in Canada's British Columbia, and how the Canadian government is covering it up to protect the farming industry.
Let me put it to you plainly: If you want to maximize health benefits from fish, you want to steer clear of farmed fish, particularly farmed salmon, and even more specifically genetically engineered farmed salmon. On December 21, 2012, the US Food and Drug Administration (FDA) took a giant step closer toward the final approval of the first genetically engineered (GE) food animal – a salmon designed to grow abnormally fast, and to an unnaturally large size. It now appears the first GE fish could reach your dinner plate within the next year or two, unless a sufficiently strong opposition is mounted.
Unfortunately, salmon are often mislabeled (and genetically engineered foods don't require any labeling at all as of yet). Studies have shown that as much as 70 to 80 percent of the fish marked "wild" are actually farmed. This includes restaurants, where 90-95 percent of salmon is farmed, yet may be mis-listed on the menu as "wild."
So how can you tell whether a salmon is wild or farm-raised? The flesh of wild sockeye salmon is bright red, courtesy of its natural astaxanthin content. It's also very lean, so the fat marks, those white stripes you see in the meat, are very thin. If the fish is pale pink with wide fat marks, the salmon is farmed. Avoid Atlantic salmon, as typically salmon labeled "Atlantic Salmon" currently comes from fish farms. ...
And this, "Polling suggests wild salmon protection is a winning platform in BC", arrived in our inbox this afternoon. (We here in British Columbia are in the second day of a provincial election campaign.)
Vancouver, BC) A poll conducted by Oraclepoll Research Limited suggests that candidates in the provincial election should take the issue of protecting wild salmon from salmon feedlots seriously.
The poll, which interviewed 1000 British Columbia citizens between March 21st and March 28th and has a margin of error of +/-3.1 %, found that over 70 percent of those surveyed were more likely to vote for a candidate that supports the protection of wild salmon. It was also found that 70 percent thought it was important to remove salmon farms from salmon migration routes.
When asked if they would be more willing to vote for a candidate that supported the protection of wild salmon, over 59 percent who self identified as Liberal supporters said they would, and 56 percent of those identified as NDP supporters and over 78 percent who were identified as Green Party said they would.
The same voters were asked how important it was to have a candidate that thought that salmon farms needed to be removed from wild salmon routes. Voters who identified as Liberal polled at almost 60 percent, NDP supporters at 68 percent and Green Party supporters at over 90 percent.
Alexandra Morton, co-founder of Salmon are Sacred stated, "Wild salmon have been dying of politics for decades, now it would seem politicians need wild salmon to get elected. All parties are showing interest in the issue. The Green Party is clearly interested in removing salmon feedlots and NDP environment critic, Rob Fleming, told CBC Radio Victoria (March 23) that the NDP would initiate a review of the issue including looking at banning open net fish farms along key salmon migration routes. Also in March, the BC government announced a freeze on new net-pen salmon farms near the Discovery Islands."
Ms. Morton concluded, "All of these activities are a good start. It's time to give wild salmon some relief."
The wild salmon populations in British Columbia are dwindling. While there are other factors, studies reveal a direct correlation between the introduction of salmon farms and the decline of wild salmon. This is an impact that can be easily reduced.
Wild salmon feed over 190 British Columbia wildlife species. Wild salmon is worth about $2 billion in revenue from wilderness tourism and fishing. Salmon farm tenures are provincial and can be terminated if it is in the public interest.
Posted at: Wednesday, April 17, 2013 - 04:33 PM -- Posted by: Jim Scott -- Permalink: (#)
---
Tuesday, April 5, 2011
Aquaculture
From contributing eight percent of the world's seafood harvest in 1975, aquaculture now provides more than half but not without causing environmental and social problems
The following essay is an excerpt from
Let Them Eat Shrimp: The Tragic Disappearance of the Rainforests of the Sea
by Kennedy Warne. Copyright 2011 Kennedy Warne. Shrimp farming has led to two decades of concerted deforestation.
The dirty truth behind America's obsession with shrimp
Kennedy Warne
AlterNet
USA April 1, 2011
Shrimp and mangroves. Mangroves and shrimp. The two are intertwined, ecologically and economically. They are like a pair of orbiting stars, though one shines at the expense of the other. The bitter irony is that without mangroves, there would be no shrimp. Mangroves are the natural nurseries of the shrimp species that are farmed commercially, just as they are for so many other marine creatures. In the wild, shrimp begin their lives in offshore waters, where the adults spawn. Then, carried inshore by currents, and perhaps aided by their own swimming, the larvae take up residence in sheltered inshore habitats where mangroves flourish. There, living and feeding in the shelter of the tangled limbs of the mangrove forest, they grow and molt until they are ready to migrate back out to sea.
Technology has short-circuited this ecological connection. Industrial shrimp hatcheries have taken the place of mangrove nurseries. From the viewpoint of commercial shrimp farming, mangroves are superfluous. And that is exactly what they have become on the ground. In most developing countries, it is not possible to visit mangroves without seeing the hobnailed bootprint of a rapacious industry. How did aquaculture come to be such a destructive force, and shrimp the mangroves' nemesis? Let's go back to the origins of the industry. ...
... The World Bank and the International Monetary Fund promoted aquaculture because it helped developing nations diversify their exports and spread risk, and it kept the wheels of debt repayment turning. During the 1980s and '90s the World Bank, IMF, and other international lenders were enthusiastic backers of shrimp farming in the Third World. ... And so began two decades of concerted deforestation. Mangroves fell to ax, match and bulldozer at a rate of between 1 and 2 percent per year -- the same rate at which inland rainforests were being felled to make way for cattle and soybeans. It was a devastating double whammy for the forests of the Third World: slash-and-burn agriculture in the terrestrial rainforests, bulldoze-and-fill aquaculture in the mangroves. But while rainforest destruction quickly attracted urgent and vociferous opposition, the removal of mangroves was off the public radar. For most people, it still is. ...
Indoor shrimp farming could grow into big industry for Michigan
Detroit Free Press
USA April 3, 2011
To ramp up the automotive industry in Michigan, Henry Ford built the Rouge Plant -- a manufacturing infrastructure that could produce everything needed, from glass to steel, to make cars. Today, Russ Allen is looking for a way to build a shrimp Rouge Plant -- a pollution-free, recirculating facility that could breed, grow, process and ship a million pounds of shrimp a year.
It's not as far-fetched as it sounds. Allen, who spent 23 years establishing outdoor shrimp farming in Central and South America, has been raising shrimp indoors in Okemos since 1994 at his Seafood Systems research facility. He closely guards his proprietary technology from other companies and scientists around the world who also are racing to create the first successful, commercial-sized, indoor shrimp-growing system. "This could be the start of an entirely new industry for Michigan, a clean industry, with new jobs," he said -- if he can find the $10 million he needs to build a commercial plant. ... Michigan could be a player in that [the state of Ohio already has about 170 fish farms, including 25 to 30 outdoor shrimp farms] and other aquaculture, Allen contended, growing not only shrimp but all kinds of fin fish, from perch and whitefish to rainbow trout and tilapia. "We can build another empire doing this. It's not the return in the next five years. It's where we're going to be in 20 years."
Partnerships between U.S. seafood producers and U.S. soybean farmers continue to produce results as "both seek ways to improve the U.S. aquaculture sector as a sustainable source of nutritious finfish and shellfish." Really? Sustainable? Soybeans, which are currently harvested from 72 million acres in the United States, require a large input of fossil fuels through the use of fertilizers and in planting and harvesting. Large-scale agriculture also contributes to water pollution through runoff, causes increased erosion and loss of topsoil, contributes to loss of biodiversity by converting native habitats to monoculture crops and is harmful to natural ecosystems through the use of pesticides and herbicides. Genetically modified soybeans are an increasing hazard to ecosystems in a natural balance (92% of soy is currently genetically-engineered). In addition to the energy intensive growing of soybeans, the crushing of soybeans to produce soybean oil uses energy and produces pollution. Soy is currently the fourth most subsidized crop in the U.S.
Projects in place to make aquaculture sustainable through soy feeds
Natalia Real
Fish Info & Services, Canada
Canada April 4, 2011
US seafood producers and US soybean farmers continue to join in efforts to improve the national aquaculture industry as a sustainable source of finfish and shellfish. The United Soybean Board (USB) is investing in projects meant to benefit domestic aquaculture producers. The majority of the projects entail one of two categories.
The first entails research to improve fish farming output. This includes researching new soybean traits to boost soybean meal characteristics for diets fed to farmed fish, and upgrading the efficiency of aquaculture production by using best practices and standard operating procedures at critical control points. The second category entails working through the National Aquaculture Association (NAA) to help promote the benefits of the country's aquaculture in terms of health, economic and environmental benefits. This includes communicating these benefits to consumers, the food industry and health care professionals; running workshops to teach farmers how to better their product marketing and help enhance public perception locally; maintaining a website to serve as database of aquaculture information; and attracting positive media exposure. ...
Oyster aquaculture industry flexes muscles
Cory Nealon
Daily Press, The Deadrise blog
Virginia USA April 4, 2011
Doug McMinn would rather work on the Rappahannock River than talk to politicians. Yet that's exactly what he was doing over the winter when state lawmakers began tinkering with Virginia's oyster aquaculture laws. McMinn and fellow oyster growers convinced Democrats and Republicans to scrap the changes, which he said would have done more harm than good. "We can't just fly under the radar anymore," said McMinn, whose farm produces roughly 3 million oysters a year, making it one of Virginia's largest. After years of development, oyster aquaculture is booming in Virginia — sales are up 12-fold from 2005 to 2009, according to the Virginia Institute of Marine Science. The reason: scientific advances, including the proliferation of a genetically modified oyster, has made growing the briny delicacy easier. As a result, the trade is spreading from longtime fishing communities to tonier enclaves, where oyster cages and workboats are not always welcome. ...
Oyster aquaculture creating water-use conflicts
Cory Nealon
Daily Press, The Deadrise blog
Virginia USA April 5, 2011
Katherine Queen has a home that befits her name. The modern colonial sits alongside the Poquoson River, where marshes give way to breathtaking views of the Chesapeake Bay. The tranquility belies a growing alarm in her secluded suburban enclave. A cooperative of watermen want to place thousands of oyster growing cages in the shallows off her backyard. ...
The conflict is one that government regulators expect to see more of as oyster aquaculture becomes more common in the bay and its tributaries. Until recently, the industry was almost exclusive to small fishing communities that line the Potomac and Rappahannock rivers. But advances, such as a genetically-modified, disease-resistant oyster, have made growing oysters easier. Consequently, entrepreneurs are proposing large scale farms in Hampton Roads and beyond. "They seem to be moving from rural areas toward more residential areas," said John M.R. Bull, spokesman for the Virginia Marine Resources Commission. "The industry is going through some growing pains." ...
Most scientists and government officials believe that aquaculture is the only way Virginia can sustain its oyster fishery, which was decimated last century by diseases, overfishing and habitat loss. The genetically modified oysters are sterile; they direct their energy into growing quickly instead of reproducing. Most reach maturity before diseases kill them, said Standish Allen, a Virginia Institute of Marine Science professor. It also helps that oysters enjoy a privileged status; not only have they sustained generations of Virginians, they help clean the bay's water. An adult oyster can filter up to 50 gallons a day. ...
Sanctuary zones needed
Grant Westphalen
Yorke Peninsula County Times
Australia April 5, 2011
I have some 14 years experience in research across reef, seagrass and soft bottom ecosystems systems in South Australia as well as engagements across a range of specific issues including marine pests, marine debris and environmental impact assessment of aquaculture. I have no hesitation in supporting the need for marine parks in South Australia, as sanctuary zones, based on sound scientific principles, are essential for the long-term security of the state's unique marine biodiversity. Most of the debate regarding sanctuary zones appears focused on hysterical concerns from the fishing industry. ...
Related:
... "Where there's smoke there's fire or as they say in showbusiness 'where there's a hit, there's a writ'. GAAIA relishes the opportunity to prove in court that 'Salmon Farming Kills'. Cermaq are blowing smoke and are all smoke and mirrors when it comes to their claims of 'sustainable aquaculture'. Norwegian companies may have a monopoly on salmon farming but the Norwegian Government does not have a monopoly on the truth. Salmon farming, like smoking, seriously damages public health, our environmental health and the health of wild salmon. For the sake of our global ocean we need to quit salmon farming now and stub out farmed salmon from the face of the blue planet". ...
- Global Alliance Against Industrial Aquaculture (GAAIA), "Salmon Farming Kills Free Speech!"
Fish farm sues activist for defamation
Mark Hume
Globe and Mail
Canada March 24, 2011
A heated battle between an anti-fish farm group and the aquaculture industry is headed to the Supreme Court of British Columbia over attack ads that equate farmed salmon with cancer-causing tobacco. Mainstream Canada [which produces 25,000 tonnes of farmed fish annually in B.C.], the second-largest aquaculture company on the West Coast, is seeking damages for "false and defamatory postings" and seeks to have the offending material removed from the websites, Facebook accounts and Twitter feeds of Don Staniford and his organization, the Global Alliance Against Industrial Aquaculture. ...
Mr. Staniford said the lawsuit is an attempt by the company to silence its harshest critic. "This is an example of the Norwegian government trying to shut down free speech," he said, noting that the GAAIA website was taken offline after the Internet service provider was advised of the lawsuit by the company. Mr. Staniford said he hopes to have a new site up soon, and that he will use it to continue his battle against fish farms and to raise legal defence funds. Mr. Staniford, who is based in B.C., said he formed GAAIA recently to go after fish farms internationally, and that the organization "has supporters globally." ...
Norman Farrell maintains a British Columbia blog of fact and opinion, Northern Insights, "Norm Farrell's antidote to political reporting in B.C.'s mainstream media". On Sunday, April 3, 2011 he posted ("It's a tough spot but Premier Clark is thriving, I mean, she seems to really. .") concerning what he refers to as 'Rah Rah Radio', a notorious-to-thinking-people public affairs program on a corporatist radio station in our province. In one paragraph Farrell makes a telling statement concerning fish farming in British Columbia. Below is his opening paragraph and then an excerpt from the relevant paragraph.
CKNW's Bill Good and producer Jessica Hyatt want you critics of Christy Clark and BC Liberals to be quiet. You are all greedy beggars, demanding services from government while you are unwilling to pay for them. You just go on and on and on and on, don't you. Please, stop complaining so the Liberals can continue rewarding the people that really deserve rewards. ...
And please, stop talking about Independent Power Producers. People should appreciate all the new roads they build in the BC wilderness, a few of them are even open to the public, sometimes. Through dams, diversions, tunnels and penstocks, this good clean industry keeps small lakes drained and prevents rivers from being clogged with fish. Fewer wild salmon means a better market for farmed. ...
Posted at: Tuesday, April 05, 2011 - 12:25 PM -- Posted by: Jim Scott -- Permalink: (#)
---
Wednesday, September 15, 2010
Aquaculture
Smells fishy: FDA set to accept junk science and approve for market genetically modified Atlantic salmon created in Canada and now owned by the Massachusetts-headquartered company AquaBounty
The AquAdvantage salmon were developed by Canadian scientists trying to help farmed Atlantic salmon survive winter. Those experiments, which involved introducing fish anti-freeze protein genes into Atlantic salmon from flounders, led to a growth breakthrough when genes from Chinook salmon (a Pacific species) and pout (a type of cod) were introduced.
- Mark Hume,
Globe and Mail
December 10, 2004. One of the links in Aquaculture: Coming to your supermarket soon not only drug-laden but also GMO salmon,
Salt Spring News
, December 14, 2004
From Dumbing down palates, horizontal and vertical monopolies, police raids and legal witch hunts: All tools in the corporatists' war on food
Salt Spring News
June 3, 2010:
Noted:
AquaBounty Technologies
is a biotechnology company focused on improving productivity in commercial aquaculture, an $86 billion industry and the fastest growing segment of the worldwide food industry. Our objective is the application of biotechnology to ensure the availability of high quality seafood to meet global consumer demand.
AquaBounty was originally incorporated in 1991, under the name A/F Protein, to pursue the commercial development of antifreeze protein-based technology under license from the University of California at Berkeley.
In 1996, A/F Protein acquired a license to the AquAdvantage® technology from the University of Toronto and Memorial University of Newfoundland
, and was subsequently reorganized in 2000, into two separate entities: A/F Protein, which retained the antifreeze protein technology; and, AquaBounty Farms, which obtained the AquAdvantage® technology. AquaBounty Farms, headquartered in Waltham, Massachusetts, changed its name in 2004 to AquaBounty Technologies. ... [
Emphasis added
]
AquaBounty, has requested US approval for its fast-growing GM AquAdvantage® Salmon. The company won't even bother to request approval in Canada until this happens. The GM fish is now competing with Enviropig™ to be the first GM food animal approved in the world. AquaBounty has facilities in Newfoundland (AquaBounty Canada) and in Prince Edward Island (AquaBounty Farms).
Genetically modified salmon present a number of risks to consumer health and environment
Wenonah Hauter
Food & Water Watch/Common Dreams
USA August 3, 2010
As rumors swirl that the Food and Drug Administration (FDA) may allow the sale of genetically modified (GM) salmon to consumers, flaws in the review process surrounding this controversial disruption to the natural food chain are coming into focus. The FDA, which has been tasked with overseeing the public's health, could approve the divisive science experiment as early as this fall - a decision that consumers strongly oppose. If approved, the salmon would represent the first genetically modified animal sold as food to unsuspecting consumers (currently, there are no labeling requirements in place to assist consumers in identifying and avoiding GM foods).
Unfortunately, many in the aquaculture industry seek to genetically engineer fish to speed up production of their product. In this case, the company lobbying the FDA for approval, AquaBounty Technologies, wants to combine salmon genes that control growth hormone with a gene from another fish, the ocean pout. The ocean pout gene would keep the growth hormone in production, effectively creating mutant salmon that grow at twice the normal rate.
Unfortunately, the FDA's tests (historically used to determine if a non-GM food was safe) were created before GM products became a reality and are insufficient in determining the long-term, unforeseen consequences of the GM salmon in question. Put simply, these dated tests cannot determine the salmon's full allergenicity and toxicity. And toxic they are - a recent study commissioned by the European Union revealed that fish that have been modified to grow faster also have a higher tolerance to the toxins in their environment. Researchers expressed concerns that both these toxins and the growth hormones would end up in consumers. In addition to the FDA's inability to test for the full range of consumer health threats introduced by GM foods, the agency's tests do not include a review of the GM animals' environmental impacts. This is unacceptable, as European researchers also found that genetically modified fish 'have a considerably greater effect on the natural environment than hatchery-reared non-transgenic species when they escape. ...
The creepy science behind genetically engineered "Frankenfish" about to enter our food supply unlabeled
Jill Richardson
AlterNet
USA September 13, 2010
When the FDA announced it found the genetically engineered AquAdvantage salmon safe just before Labor Day, news headlines and even Alaska Senator Mark Begich called it a "frankenfish." A closer look at AquAdvantage makes it seem unlikely that Mary Shelley could have ever dreamed up anything as wild as the fast growing GE salmon. Even more worrisome is the science used to justify the salmon's safety, which Consumers Union senior scientist Michael Hansen calls "sloppy," "misleading," and "woefully inadequate."
If approved, AquAdvantage will be the first genetically engineered animal to directly enter the U.S. food supply -- a fact that raises the stakes of the FDA's approval process, as it sets a precedent for all future GE animals. Because of a regulatory decision in the 1980s that no new laws are needed to regulate genetically engineered foods, the FDA is actually regulating the GE salmon as a drug. The next step in the approval process will be a series of public meetings held September 19-21. Already, a number of groups, including Food & Water Watch, the Center for Biological Diversity, Friends of the Earth, and Organic Consumers Association have written to President Obama, urging him to discontinue the approval process for the GE salmon. (Full disclosure: I serve on the Policy Advisory Board of the Organic Consumers Association, but I was not a part of the decision to sign onto this letter.) ...
According to AquaBounty's plans, the GE salmon will begin their lives at a hatchery in Prince Edward Island, Canada and then transfer to a grow-out facility in Panama. Unlike most salmon, which begin their lives in freshwater before transferring to saltwater, the GE salmon will live their entire lives in freshwater. ... While farmed salmon have been an environmental catastrophe in countries like Canada and Norway, it seems that environmental concerns over AquAdvantage take a backseat to safety concerns. ...
FDA set to accept junk science for 'Frankenfish' safety studies
Tom Laskawy
Grist
USA September 14, 2010
Visit this page for its embedded links.
Sen. Mark Begich (D-Alaska) is right: If ever a genetically engineered product deserved the "Frankenfood" label, it's the genetically modified Atlantic salmon created by the Massachusetts-based company AquaBounty. These salmon, which contain growth genes from Chinook salmon as well as the ocean pout, are truly monsters. They grow faster and end up larger than normal Atlantic salmon. And they just received preliminary approval from the FDA; the final nod is likely to come in the next month.
I make no fishbones about the fact that I have a deep skepticism of transgenic food. And it's not because I don't "trust" the concept in some way. What I don't trust is a regulatory system that puts the companies that want to sell you their genetically engineering product in charge of proving its safety. Can no one in charge see the flaw in this logic?
This standard doesn't just apply to genetically engineered food, of course. It's true for drugs and industrial chemicals as well. Indeed, an entire "product defense" industry has sprouted up to help corporations publish favorable and, sometimes misleading, science with which to gain government approvals and fend off safety concerns. ...
Related:
Mouse and e coli genes injected into a Yorkshire pig embryo. Enviropig™ is the trademarked industry name for a pig that has been genetically engineered to excrete less phosphorous in its feces.
Enviropig™: A piggy you hope never to meet at market
Lucy Sharratt
Common Ground
British Columbia Canada June 2010
Fifteen years ago in a lab at the University of Guelph in Ontario – then home to some of Canada's most ardent supporters of the new science of genetic engineering – an idea was conceived. Five years later, "Wayne," a genetically modified (GM) pig was born. Now, the so-called "Enviropig™" could soon be approved for human consumption in Canada and possibly the US as well.
As technology grows increasingly complex and our environmental problems ever more serious, the proposed "technological fixes" from industry grow more ludicrous and dangerous. And so it is with genetic engineering. The common disconnect between science and reality is represented perfectly by the ridiculous, and yet threateningly real GM Enviropig™ project. Enviropig™ is the grotesque realization of early scientific aspirations and laboratory accidents. Born of scientific curiosity, hubris and a complete misunderstanding of the real world, a GM pig with less phosphorous in its feces is being proposed as a solution to water pollution caused by run-off from factory farms. ... Enviropig™ is a classic false technological fix that ignores the real causes of a problem and instead tries to develop, at great cost, a shiny, new, patented product for sale to mask the symptoms. ...
Enviropig™ is the child of researchers at the University of Guelph and is almost fully funded by the public purse, with one exception. The hog producers' association, Ontario Pork, is the single private investor and has funded research and development to the tune of at least $1.371 million. The money invested came directly from Ontario hog producers who pay a compulsory fee to the association on each hog marketed in Ontario. Ontario Pork holds an exclusive licence to distribute the pig to swine breeders and producers worldwide....
It's possible that Enviropig™ could be approved in the US before Canada, as the University of Guelph submitted an application to the US Food and Drug Administration in 2007. Canadian university researchers-turned-entrepreneurs know to try US food safety assessment first, as a strategy to gain faster approval and then pressure Canada to follow. This is the case with the Canadian company AquaBounty, which has requested US approval for its fast-growing GM salmon. The company won't even bother to request approval in Canada until this happens. The GM fish is now competing with Enviropig™ to be the first GM food animal approved in the world. ...
The Current: Part 3, September 15, 2010
Audio: Twenty-four minutes
Peak Fish
We started this segment with a scene in 1992 when then-federal Fisheries Minister John Crosbie was confronted by protesters in Bay Bulls, Newfoundland .. after the government announced a moratorium on the northern cod fishery.The once-teeming stocks of cod that had fueled an entire economy and way of life for centuries had crashed catastrophically.
The collapse of the cod fishery was just one of the more spectacular examples of fish stocks that began an inexorable decline more than twenty years ago ... around the time that some scientists say the world passed what they call "peak fish".
And as Paul Greenberg sees it, if the world keeps feeding its seafood craving the way it has, it could spell the end of fish as a wild food. Paul Greenberg is a life-long angler and the author of
Four Fish: The Future of the Last Wild Food
, and he joined us from New York.
Posted at: Wednesday, September 15, 2010 - 04:09 PM -- Posted by: Jim Scott -- Permalink: (#)
---
Tuesday, December 16, 2008
Aquaculture
Canned at the fish plant
Andrew Struthers TheTyee.ca British Columbia Canada December 11, 2008

... Truth be told, fish farming in B.C. goes back only to the 70s, and an incident involving then-premiere Bill Bennett, two Norwegian businessmen and one briefcase full of lolly. But that's another anecdote. Personally, I only remember the industry back to the winter of 1988. That was my first glimpse of aquaculture, and it wasn't pretty. I worked for an outfit in Tofino, now long defunct. The salmon farms hadn't yet mastered the genetic angle. I saw a lot of monsters. Two-headed freaks we called Derns (after Bruce Dern in "The Incredible Two-Headed Transplant"). VWs, named for their "Herbie The Love Bug" shape. Handbags, bloated with gas. Morts, which had died en route to the plant. Mushies, so soft you could tear out their gills with a finger. The list goes on. A far cry from the noble beasts I slaughtered each summer on the high seas. I spent those dog days fishing five miles out, for sockeye and coho. It was a lot sketchier than life in the plant. I almost got knocked overboard in the middle of the night while running through inky waters to Cape Scott. A safety line is all that saved me. But it's a life that I could have looked back on, as I sank into the fathomless darkness, with pride. That can't be said about my nine winters in the fish plant.

... In my nine years of commercial fishing I saw two major changes. The fish plant coffee room went from using cream to using a powder named Coffee Whitener to using stuff called Coffee Top, a change that I believe was driven by legal requirements to protect consumers by providing more accurate descriptions on product labels. Meanwhile, out at sea, skippers got jiggy with the hi-tech until their small boats were worth a cool million and there was no way to pay for them. Simultaneously, the going rate for wild salmon, which had to compete on paper for uninformed consumer dollars, dipped below the price per pound fetched by those strangest living curiosities from the fish farms. It sounds like madness, but seafood buyers love aquaculture because it can provide X number of salmon on a day of their choosing. At sea, sometimes you catch a whole bunch of salmon, and sometimes your nets come up empty. This sort of behaviour drives seafood buyers crazy. Although some skippers would say it's more of a short putt. The upshot: I saw more than one skipper lose his boat and end up cutting fish on the line beside me. Environmental and economic arguments aside, is this a deal we want to make? ...


Posted at: Tuesday, December 16, 2008 - 02:12 PM -- Posted by: Jim Scott -- Permalink: (#)
---
Wednesday, June 4, 2008
Aquaculture
Tracing the prawn's tale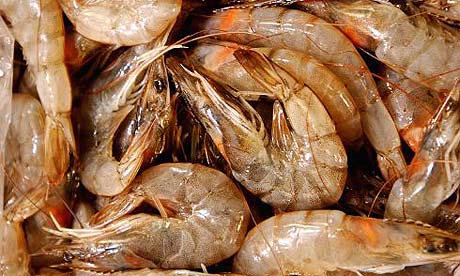 A system of certifying sustainably grown prawns can help to root out corruption in the trade. Photo: David Levene
A wise course of action?
Fred Pearce
Guardian
UK April 23 2008
A quest to find out where the prawns in his London curry came from took Fred Pearce all the way to Bangladesh - but it was not so much the food miles that bothered him as the social dilemma he unearthed.
... [M]y investigation began in Manchester with Iqbal Ahmed, known among Britain's Bangladeshi community as Mr Prawn. Ahmed first introduced black tiger prawns to Britain in the 1980s. They made him rich, and made Manchester - the home of the chip butty - the unlikely prawn capital of Europe. Ahmed's company, Seamark, supplies tiger prawns to thousands of curry houses and pubs across Britain. Most are bred in ponds dug in thousands of square kilometres of former mangrove swamps on the delta of the river Ganges. In the past two decades, big landlords have turned Bangladesh into one of the world's largest producers of tiger prawns. This is bad ecologically, but it is also bad socially. Meeting Amal [a Bangladeshi peasant], I collided with a world of poverty, debt dependency, usurious middlemen and ruthless gangs, known locally as musclemen, paid by the big landlords to keep people like Amal in check, or throw them off their land. One gang was threatening to stop water from the river reaching Amal's pond unless he paid a fat bribe.
The local papers reported killings by the musclemen. But the police are often in cahoots, and investigating who is behind this quiet terror is dangerous. In 10 years, 14 news reporters have been murdered in the area for probing too deeply. The economics, too, is breathtaking. Amal gets just pennies for raising prawns that turn up on my plate in London for £9.95. Why? Because between his pond and the processing plant 10km away in Khulna, those prawns pass through no fewer than seven sets of middlemen, each taking a cut. Back in Britain, Ahmed is not party to any of this. He simply buys the prawns delivered to him. But several attempts have been made by NGOs in Britain, the US and Bangladesh to root out the corruption by setting up a system of certifying fairly traded and sustainably grown prawns. And they have attempted to recruit Ahmed to their cause. He told me they were designed to extract money from him: "I'd have to pay for certification, but what would I get in return?" ...
John Vidal writes in a sidebar to Pearce's article (entitled "Flooding the market"):
Prawns are partly responsible for the present food crisis in Bangladesh, Vietnam and countries in South East Asia. During the 1980s, the World Bank and International Monetary Fund encouraged many poor countries to export to get foreign currency, and Bangladesh's government was helped by the bank to develop a new prawn industry. It now employs tens of thousands of people, but has removed more than half a million acres from staple food production, made hundreds of thousands of people landless, forced people into the slums and is an ecological disaster.
Prawn farming began with people trapping tidal waters in enclosures known as "gher" where no feed, fertilisers or other inputs were applied. But it quickly became an intensive industry with powerful prawn farmers building hundreds of miles of embankments and destroying mangrove forests. Traditional farmers have had little choice but to lease or sell their land to prawn entrepreneurs. Anyone who refuses is liable to have their crops ruined, after groups - often armed - flood their fields with salt water. The farming has led to permanent waterlogging over large areas and increased saline intrusion, affecting thousands of other farmers. In many prawn farming areas, local communities now keep fewer domestic animals and grow fewer fruit trees.
Posted at: Wednesday, June 04, 2008 - 04:14 AM -- Posted by: Jim Scott -- Permalink: (#)
---
Friday, December 14, 2007
Aquaculture
Farmed-salmon parasites devastating to wild stocks, study finds: Undeniable say scientists but industry and government skeptical and derisive
A young salmon infested with sea lice in British Columbia, where researchers say they threaten wild fish populations.
"Science actually writes ... the first or the last paper about a topic. ... It's something completely new or something that is not new but settles the issue. ... This is definitive - and the baton is passed to policy [makers]." Dr. Pauly [director of the University of B.C. Fisheries Centre] said it is up to government to act on the findings and bring in regulations to control the impact of fish farming on wild salmon. "The reluctance of the provincial government and of the [federal Department of Fisheries and Oceans] to pick that up as a policy item in good faith is actually the real story, the real scandal," Dr. Pauly said.
- Mark Hume reporting
Call for action in wake of fish farming report
CKNW Radio
British Columbia Canada December 13, 2997
The NDP is stepping up its call for action in the wake of a new report that says fish farming in BC could lead to the extinction of some wild salmon runs in a matter of years. MLA Robin Austin chaired a legislative committee that recommended last May the government ban open net fish farming in favour of closed-containment pens. ...
Sea lice making salmon extinct, study says
Mark Hume
Globe and Mail
Canada December 14, 2007
... Leading fisheries scientists are hailing the study as a definitive work that ends the debate about the dangers of fish farming - but the aquaculture industry and the federal Department of Fisheries and Oceans reject it, questioning the methods used and the conclusions reached. ... Clare Bachman, environmental compliance manager for Marine Harvest seafood company and a spokesman for the B.C. Salmon Farmers Association, said he was skeptical of the study. ... DFO also had reservations about the study. "I think the paper simply overstates the risk to pink salmon in the Broughton ... and it simply isn't consistent with the observations of recent years in the Broughton," said Brian Riddell, a top salmon scientist for DFO. "I don't think that it's completely flawed ... but I do not believe that the [peer] review process did any credit to this paper," he said. But Daniel Pauly, one of the world's leading fisheries researchers and director of the University of B.C. Fisheries Centre, said the study is undeniable. ...
Fish farms kill off wild salmon
Chicago Tribune
USA December 14, 2007
Salmon lovers often face a tough decision: Farmed salmon is less expensive and has more omega-3 fatty acids than wild salmon. But farmed salmon has been shown to contain up to ten times the level of contaminants, including polychlorinated biphenyls (PCBs), flame retardants (PBDEs) and other organic chemicals. Sadly, the issue might soon be moot. Parasitic sea lice infestations caused by salmon farms are driving nearby wild salmon populations toward extinction, according to
a study
in the journal
Science
. ...
Lice in fish farms endanger wild salmon, study says
Cornelia Dean
New York Times
USA December 14, 2007
Parasites that breed in fish farms kill so many passing juvenile wild salmon that they threaten the survival of fish populations in some rivers and streams, Canadian researchers are reporting.
The researchers studied pink salmon in an area north of Vancouver Island, British Columbia. But they said their findings, and earlier studies of the effects of farm-borne parasites on wild salmon, were so damning that they challenged aspects of aquaculture generally. ...
Farmed-salmon parasites devastating to wild stocks, study finds
Chris Lambie
Chronicle Herald
Nova Scotia Canada December 14, 2007
Sea-lice infestations caused by salmon farms are driving nearby populations of wild salmon to extinction, according to new research. The study, which appears today in the journal
Science
, was co-written by the late Ransom Myers, an internationally renowned fisheries scientist from Dalhousie University who died in March of an inoperable brain tumour. "It's the first study that really quantifies how big a deal disease from salmon farms can be for wild-salmon populations," said Jennifer Ford, a marine biologist with the Ecology Action Centre who worked with Mr. Myers on the project. The team of scientists who carried out the research looked at how farmed Atlantic salmon are affecting wild Pacific salmon in British Columbia's Broughton Archipelago. ...
Nova Scotia has a handful of salmon farms and there are dozens of the facilities in New Brunswick. The numbers of wild salmon frequenting this province's rivers are extremely low, Ms. Ford said. Salmon are born in rivers and then go to sea. If they survive, the fish normally return to those same rivers to spawn. The bulk of Nova Scotia's 75 salmon rivers are closed to angling because there are too few spawners. While acid rain is responsible for destroying salmon populations on 57 rivers along the province's Atlantic coast, it does not seem to have hurt the Bay of Fundy. There are lots of theories about what happens to Bay of Fundy salmon when they go to sea. Escaped farmed salmon could spread disease to their wild counterparts, or the wild salmon could be eaten by hungry seals or sharks or fall prey to falling ocean temperatures. It's difficult to determine whether fish farms have led to declines in wild Atlantic salmon populations, but it might be a factor, Ms. Ford said. "The Bay of Fundy still seems to be kind of a mystery," she said. A combination of ocean conditions and habitat changes might be responsible for the steep decline of wild salmon stocks in the area, Ms. Ford said. "We know that it can't only be a salmon-farming issue," she said. "But we also know that salmon on those farms have had diseases like infectious salmon anemia and that disease has spread from farm to farm in New Brunswick. So it's very possible that if a disease is spreading from farm to farm, that it's also spreading to wild populations in that area." ...
Posted at: Friday, December 14, 2007 - 12:22 PM -- Posted by: Jim Scott -- Permalink: (#)
---
Monday, October 29, 2007
Aquaculture
Organic fish producers must prove airfreight benefits to community
John Evans IntraFish/Organic Consumers Association Norway/USA October 25, 2007

Organic fish producers, who airfreight fish will not lose their organic status as long as they can show their activities benefit their local community and do not harm the environment, the U.K. Soil Association said. It follows the announcement of the outcome of a four-month review of the organic certifier's standards, amid public concerns that the airfreighting in of foodstuffs from overseas is adding to the amount of carbon in the earth's atmosphere. The review concluded that organic goods should only be air freighted to the United Kingdom, if they deliver genuine benefits for local farmers' and communities in developing countries.

It also means airfreighted products must conform to fair trade practices such as paying a fair price to producers and are produced without exploiting workers. Soil Association policy director Peter Melchett told IntraFish the outcome of the review would "act as a signal to everyone involved" that reliance on airfreight both for importers and exporters is unsustainable in the long-term. Though much of the review focused on the import of organic foodstuffs, Melchett moved to ease fears that those exporting from the United Kingdom will be automatically penalized. "Benefits to the community applies as much to the western world as it does to developing countries," he said. ...


Posted at: Monday, October 29, 2007 - 01:13 PM -- Posted by: Jim Scott -- Permalink: (#)
---
Wednesday, May 9, 2007
Aquaculture
Our food supply chain: Global fishiness
The latest recall has revealed the many ways in which the food chains for pets, farm animals and humans are internationally intertwined. "It shows the degree to which, with the globalization of agriculture, things that go wrong in one country can affect many of us who never thought we'd be touched," said Rebecca Goldburg, a biologist with Environmental Defense, an advocacy group in New York. "Americans now need passports to travel just about anywhere, including Canada," she said. "It appears that food and even animal feed traveling from country to country should receive similar scrutiny."
- Pet food scare hits fish farms as B.C. firm recalls feed Kelly Sinoski
Vancouver Sun
Canada May 9, 2007
Global fishiness
Charles Fishman
Salon.com
USA January 23, 2006
Reading a brief ad is necessary to acces this entire article.
The glass seafood display case in Wal-Mart Supercenter #2641 near Allentown, Pennsylvania, is small, but it is a mouthwatering testament to the power of global sourcing. From Thailand -- sea scallops and three kinds of shrimp. From Namibia -- orange roughy. From the United States -- swordfish steaks and fresh shrimp. From China -- squid, scallops, tilapia, and crawfish. From Russia -- Alaskan king crab. From the Faeroe Islands -- cod. Right down front in the display case, with fillets thick and long enough that they run from the front of the case all the way to the back, is a platter of Atlantic salmon. Each fillet, the flank of big fish, is gleaming and vivid pink-orange. The salmon is a "farm-raised product of Chile," according to the sign, and it's fresh. The salmon fillets are priced at $4.84 a pound. Almost any American over thirty is old enough to remember a time when you could hardly buy a quarter of a pound of salmon for $5.00. That's not a special; it's the everyday low price, and available in most supercenters from one end of the country to the other. It's a couple of dollars a pound cheaper than farm-raised salmon at a typical supermarket. It's less than half the price of the farm-raised salmon sold by Whole Foods. Salmon for $4.84 a pound is a grocery-store showstopper. If prices contain information, if prices are not just a way of judging whether something is expensive or affordable but contain all kinds of other signals about supply, demand, prestige, and even the conditions under which products are made (bad freeze in Florida, expensive orange juice; hurricane on the Gulf Coast, expensive gasoline), then salmon for $4.84 a pound is a new, unintended Wal-Mart effect. It is a price so low that it inspires not happiness but wariness. If you were so inclined, you couldn't mail a pound of salmon back to Chile for $4.84. It's a price so low, it doesn't seem to make sense if you think about it for even a moment. Salmon at $4.84 a pound is a deal that looks a lot like a gallon jar of Vlasic dill pickles for $2.97 -- it's a deal too good to be true, if not for us as the customers, then for someone, somewhere. What exactly did Wal-Mart have to do to get salmon so cheaply? ...
Not only is the Atlantic salmon not native to Chile -- the Chilean coastline, of course, runs along the Pacific -- but as Pizarro puts it, "Atlantic salmon is an exotic species in the whole Southern Hemisphere." The Atlantic salmon doesn't appear naturally anywhere south of the equator. Farming salmon in Chile is a bit like farming penguins in the Rocky Mountains. Now, however, not only are there far more Atlantic salmon in Chile than people, there are ten times as many, maybe even one hundred times as many. More salmon are harvested in Chile now than anywhere else in the world, including Norway. Even as the price has drifted down, the value of Chile's salmon exports has risen nearly 70 percent in five years. Chile wants to increase the amount of salmon it exports by 50 percent again by 2010. In just a decade, salmon farming has transformed the economy and the daily life of southern Chile, ushering in an industrial revolution that has turned thousands of Chileans from subsistence farmers and fishermen into hourly paid salmon processing-plant workers. Salmon farming is starting to transform the ecology and environment of southern Chile too, with tens of millions of salmon living in vast ocean corrals, their excess food and feces settling to the ocean floor beneath the pens, and dozens of salmon processing plants dumping untreated salmon entrails directly into the ocean. ...
Germans shift panic on British food to salmon
The Times/Mad-cow.org/
UK December 6, 1996
Scroll down to find this story. It is reproduced in its entirety here.
The German panic about British food yesterday shifted briefly away from infected beef to Scottish salmon, which researchers said may have been poisoned by neurotoxins. Fish experts in Hamburg said that Scottish salmon breeders had been using the poison Ivermectin to kill sea lice, which settle on the scales of the fish. The chemical is widely used against cow, sheep and horse parasites but can damage fish and is indissoluble, according to a newsletter from the Federal German Fish Research Agency. The newsletter alleged that British salmon farms were getting around restrictions on marine use of the chemical by keeping small herds of sheep. The German press complained that farmers who used the chemical illegally were given only token punishment: one was fined £500.
Die Zeit
claimed that the 1974 Control of Pollution Act had been amended to allow release of Ivermectin into open waters.
Salmon farmers reacted angrily to the claims. William Crowe, chief executive of the Scottish Salmon Growers' Association, said: "The German reports are scurrilous and false and we are taking legal advice." The farmers are allowed to use Ivermectin to control sea lice under strict conditions provided they get consent. Only four of the 343 farms have such consent. Ministry of Agriculture tests found traces of Ivermectin in 10 per cent of salmon sampled in 1995, but Scottish farmers said that the tests did not distinguish between home-reared and imported salmon, which accounts for a fifth of all salmon sold in Britain. Irish, Canadian and Norwegian salmon farmers have used Ivermectin.
China launches crackdown on food safety
Niu Shuping and Nao Nakanishi
Reuters/Globe and Mail
UK/Canada May 9, 2007
BEIJING AND HONG KONG — China announced a food industry cleanup on Wednesday after exports of a contaminated ingredient in pet food drew global attention to insufficient controls on products barrelling out of its vibrant economy. It will prioritize the inspection of fertilizer and pesticide use in vegetable planting as well as animal medicines and additives in livestock feed, according to a notice from the State Council, China's cabinet. China's rush into capitalism has created a rash of unregulated companies, many of them operating on thin margins, whose temptation to cut corners has sometimes led to deaths from dangerous food additives. Illustrating the extent of corruption in the regulatory system, Zheng Xiaoyu, a former head of the State Food and Drug Administration, and his former secretary will go to trial on May 15 for taking bribes to approve drugs, the China Daily reported. The weak oversight and spate of safety breaches are increasingly raising concern in countries that import food, or food ingredients, from China. ...
Posted at: Wednesday, May 09, 2007 - 08:41 AM -- Posted by: Jim Scott -- Permalink: (#)
(5 Comments)
---
Wednesday, October 11, 2006
Aquaculture
Keeping northern BC fish farm free & A fish farm critic vindicated Plus a Global Week of Action Oct. 9 - 14
Keeping northern BC fish farm free
Andrew William
Northword Magazine
British Columbia Fall 2006 issue
Calling a floating net pen filled with domesticated salmon a fish "farm" is akin to calling a commercial feedlot for cattle a ranch. Crowded unnaturally together in cages, farmed salmon are subject to epidemic outbreaks of diseases and parasites that can impact wild salmon and other fish. Unused food, fish feces, and a host of chemicals used to protect the fish from diseases and parasites fall to the sea bed, creating a biological "dead zone" beneath the net pens, and polluting nearby marine waters. Open-pen farming of Atlantic salmon began in Norway and spread to Scotland in the 1960s. The spread of diseases and parasites soon became a problem and by the 1980s furunculosis-infected farm fish escaped in Norway and spread the disease to 550 farms and 20 rivers. Norway spent $100 million to slaughter the stock of 20 sea farms in an attempt to stop an outbreak of furunculosis that was imported with salmon smolts from Scotland. Infectious salmon anemia spread from fish farms to wild populations of salmon and trout, and the parasite Gyrodactylus salaris decimated many runs of wild Atlantic salmon. Norway poisoned off wild stocks in 35 of the world's best Atlantic salmon rivers in an effort to eradicate this parasite, brought to its waters with salmon smolts imported from Sweden. The first salmon farm in Canada was established in 1971. When the Norwegian government began to implement stricter regulations for the aquaculture industry in its own country, Norwegian interests began to take over the BC aquaculture industry in the mid-'80s, importing the fish they had domesticated for a life in floating sea pens—the Atlantic salmon—and with it the same problems which had occurred elsewhere. All but one aquaculture company in BC is now foreign-owned. ...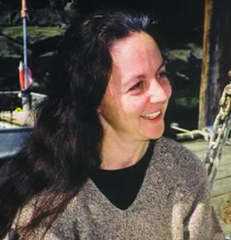 Alexandra Morton
A fish farm critic vindicated
Rafe Mair
TheTyee.ca
British Columbia October 9, 2006
For five years, biologist Alexandra Morton has been testing and reporting on the horrible impact of sea lice on the pink and chum salmon runs in the Broughton Archipelago. Her findings have been consistently proved by independent scientists, yet she's been pilloried, threatened with arrest, slandered and libelled beyond belief. ... The entire sad story can be likened to the Mad Hatter's tea party or perhaps to Orwell's
1984
. Truth is fiction and lies are the truth. ... British Columbians are victims of a fraud of the most egregious sort. The fish farmers, all from outside B.C., are raping our environment with the enthusiastic support of both senior governments. ... The fish farming companies, in my view, are utterly heartless and care not a whit for our environment. I believe that British Columbians have been systematically lied to. Corporations, with full knowledge of what harm they will do, are deliberately destroying the symbol of our land, the Pacific salmon and it's all done with the enthusiastic support of governments -- governments that care nothing for our environment if a corporation that funds their elections can make a buck out of it. ...
Related:
Environmental groups and concerned citizens are taking to the streets in five Canadian cities today to demand action from Fisheries and Oceans Canada (DFO) on open net-cage salmon farms. The public protests are part of an international week of action focusing on the impacts of salmon farming in regions where the industry's practices are raising major concerns. Events are unfolding across Canada, and across the globe most notably in the USA, Chile, Scotland, England and Ireland.
Farmed Salmon Exposed: Global Week of Action
Our oceans are in trouble. Uncontrolled fishing has brought many species to the brink of extinction, while pollution from farms, cities, and factories is making other commercially important seafood unsafe to eat. Because our wild fisheries have been mismanaged for decades, many thought that aquaculture (farming of marine species) would be a sustainable option taking the pressure off marine ecosystems while fulfilling the global appetite for seafood. While this may be true for some species, the weight of evidence indicates that carnivorous finfish aquaculture such as salmon farming does not alleviate the pressure to the marine environment instead it threatens ecosystem integrity and human health. ...
Posted at: Wednesday, October 11, 2006 - 02:27 PM -- Posted by: Jim Scott -- Permalink: (#)
---
Tuesday, October 3, 2006
Aquaculture
Aquaculture industry & governments in denial about deadly findings concerning fish farms & sea lice
Salmon parasites travel miles for new host
Press release
University of Auckland/Scoop Independent News
New Zealand September 22, 2006
Sea lice, the most harmful parasite in salmon farming, can travel up to 50km to infect a host, suggests research at The University of Auckland. A paper published this week in
Trends in Parasitology
finds that as few as five lice may result in the death of a salmonid (i.e. salmon, trout and char species). In addition, the paper concludes that sea lice on salmon disperse over distances of 20-50 km. Sea lice skin parasites are the most harmful parasite in salmon farming, causing losses estimated at €170 to €270 million per year globally. The abundance of salmon in farms in coastal waters has increased the number of available hosts, and epidemics have occurred in farmed and wild fish in areas of Ireland, Scotland, Norway and British Columbia. ...
Fish farms kill wild salmon, study finds
CBC British Columbia
October 2, 2006
Commercial fish farms must change the way they operate to ensure the survival of wild fish stocks, says an author of a study that found parasites from the farms kill as much as 95 per cent of wild young salmon that pass by them. ... In the absence of the fish farms, the juvenile salmon would normally have between three and five months to grow before they would be exposed to sea lice, which are typically carried by adult salmon, Krkosek said. The juvenile salmon would enter the ocean without lice months before the adult salmon return. But the farms artificially concentrate large numbers of sea lice near salmon migration paths, forcing the juvenile salmon to pass through clouds of the parasites, the study found. ...
Sea lice killed up to 95% of salmon, team finds: Parasite was fatal to wild juvenile fish swimming past coastal farms
Martin Mittelstaedt
Globe and Mail
October 3, 2006
A team of researchers has found that sea lice from a group of fish farms along the British Columbia coast infected and then killed up to 95 per cent of the wild juvenile pink and chum salmon swimming past the pens. The dramatic finding, to be published this week in the on-line edition of the U.S. journal
Proceedings of the National Academy of Sciences
, is likely to further intensify the debate about the impact of Canada's growing aquaculture business on the health of the country's remaining wild salmon stocks. The aquaculture industry has long played down the threat posed to wild fish by parasites and diseases from fish farming, but the study's lead author is worried the high mortality he observed indicates that wild B.C. salmon will be at risk if steps are not taken to protect them. "This is one of the last places in the world where we have natural, thriving ecosystems that depend on wild salmon, and unbeknownst to most Canadians, we're trading it off right now for these fish farms," said Martin Krkosek, a PhD student at the University of Alberta's Centre for Mathematical Biology. ... The Aquaculture Association of Canada, a trade group based in St. Andrews, N.B., that represents the industry on the Pacific and Atlantic coasts, has disputed previous scientific findings that link illnesses in wild fish to farms. Association president Chris Hendry said in an interview that "there is some uncertainty" about this link. The group has contended in the past that the transfer of sea lice from farmed to wild salmon is unlikely to be of a sufficient scale to have an impact on populations. ...
If you are a subcriber you can read this CanWest/Global August 30, 2006 article online: Sea-lice salmon threat still unproven.
N.B. salmon not threatened by sea lice, says industry spokesperson
CBC New Brunswick
October 3, 2006
A new study shows sea lice from farmed salmon in B.C. are killing wild salmon and that the results apply to fish farms everywhere, but a group representing New Brunswick fish farmers says the same thing is not happening here. Sue Scott, a spokesperson for the Atlantic Salmon Federation, said Monday the organization conducted research in the Bay of Fundy three years ago that showed sea lice were not infecting wild salmon. "We found 125 smolt and there was only one louse," she said. "So we do not feel, at the moment, that sea lice is the problem." Mark Burgham, a spoksperson for the Department of Fisheries and Oceans, confirmed the salmon federation's findings in the Bay of Fundy study. He said scientists looked at juvenile wild salmon in the same area and found no increase in mortality from sea lice or negative impact on the wild fish. ...
Posted at: Tuesday, October 03, 2006 - 11:39 AM -- Posted by: Jim Scott -- Permalink: (#)
---
Tuesday, August 29, 2006
Aquaculture
Fish farming for the future
Open-net fish farms, such as the one pictured right, let water, pollutants, and sea lice travel from the facility into the sea. David Suzuki Foundation photo. Advocates of closed-pen aquaculture are having a tough time convincing governments that their approach is financially viable.
Fish farming for the future
Andrew Findlay
Georgia Straight
August 24, 2006
Among politicians and environmentalists, a growing number of people believe industry should look harder at new technologies instead of putting bandages on the old. "I think it's really promising," says Shane Simpson, the NDP MLA for Vancouver-Hastings who also sits on the Special Committee for Sustainable Aquaculture. "The industry is defending net-pen technology, and some of them are not willing to open the door. I definitely don't dismiss the role of government in research and development." The committee, a bipartisan group of six NDP and four Liberal MLAs that held public hearings this spring in more than a dozen coastal communities, is holding another eight public meetings in October and will present a report on its findings to the legislature by next May. Closed-containment was a frequent topic at the hearings. Since 2000, when the Coastal Alliance for Aquaculture Reform (CAAR) came about, member First Nations and environmental groups such as the David Suzuki Foundation and the Georgia Strait Alliance have been touting closed-containment technology as the way to eliminate the risk of fish escapes, the transfer of sea lice to migrating wild stocks (see below), and the impacts of fish waste. ... A spokesperson for Marine Harvest—which was purchased last May for $1.8 million by Norway's Pan Fish, becoming part of the world's largest fish-farming empire—says the firm's experience with closed containment on Salt Spring Island proved the technology wasn't viable—at least not at the time. Open-net fish farms, such as the one pictured above, let water, pollutants, and sea lice travel from the facility into the sea. "There were significant additional costs. The systems were quite high-maintenance, and it was difficult to maintain the proper dissolved-oxygen levels," says Clare Backman, Marine Harvest's environment and compliance manager. "We're not an R & D company; we're primarily involved in growing fish, but we'd be foolish to ignore any new technology developments. The upshot is that it has to be viable." ...
Related:
Researcher vindicated by Crown's report
Charlie Smith
Georgia Straight
August 24, 2006
Sea-lice researcher Alexandra Morton says she still wants to proceed with her private prosecution against a fish farm operating near her home in the Broughton Archipelago. But she won't have her day in court any time soon because the B.C. Ministry of Attorney General seized control of the case and, on August 9, announced that the prosecution had been stayed. The proceedings have been discontinued, according to a government news release. ... A disappointed Morton said she has spent six years observing the "alarming impacts" of sea lice on local pink-salmon stocks and has written five papers on the subject. She said another fish farm has been approved in the Broughton Archipelago, suggesting to her that "there is no glimmer of the precautionary principle here." "I noted in Mr. Smart's appraisal of whether or not we could find them guilty of releasing sea lice, he used the word 'likely'," Morton said. " 'They likely would not be able to.' And, personally, I would like them to give the case back to me and let me argue it on my own dime. I understand that they don't want to spend the public's money for Mr. Smart. He's got to be a high-paid lawyer." Morton found solace in one aspect of Smart's evaluation. The special prosecutor retained Frederick Whoriskey, a scientist and vice president of the New Brunswick–based Atlantic Salmon Federation, to conduct a detailed review. Whoriskey's report, which is available at www.straight.com/, concluded that Morton's evidence "substantially supports" four of her allegations. ... Morton said Whoriskey's conclusions echo what scientists have said for years about open-net fish farms in Ireland, Norway, and Scotland. Meanwhile, a staunch opponent of fish farming, broadcaster Rafe Mair, suggested in a widely distributed e-mail that Whoriskey's paper clears the way for a class-action suit against fish farmers. ...
To read the Criminal Justice Branch media release concerning Alexandra Morton's private prosecution of a fish-farming operation, the summary of Special Prosecutor William B. Smart's report, and the scientific evaluation by Dr. Frederick Whoriskey, click here [PDF].
Posted at: Tuesday, August 29, 2006 - 01:00 PM -- Posted by: Jim Scott -- Permalink: (#)
(12 Comments)
---
Monday, November 28, 2005
Aquaculture
New facility aimed at ending BC's fish farm woes
Scott Simpson Vancouver Sun/Canada.com November 25, 2005

A former salmon farmer will unveil today his model for a new form of fish farm he hopes would end many of the major controversies surrounding the industry in this province. Richard Buchanan of AgriMarine Industries, who participated in a B.C. government-funded study of alternative fish farming methods in 2000, has worked with marine structural engineers and scientists on a new form of farm that could solve troubling controversies about escapes, pollution and disease. Environmental groups have long argued that aquaculture operators should raise their fish in closed pens on dry land rather than in open nets in the Pacific Ocean along the B.C. coast. Buchanan's project doesn't entirely meet that objective. Instead, he's proposing construction of closed pens that would float along the Pacific shoreline. Seawater would be pumped through, but exhaust water would be treated with ultraviolet light in order to kill diseases and parasites, and waste would be screened out before the water is returned to the ocean. The floating tank would cost $1.5 million to build, weigh 1,400 tonnes and last 25 years, Buchanan said in an interview on Thursday. Half the cash for the facility has already been committed through a foundation that has offered to match government contributions, and the federal Western Diversification fund is currently mulling Buchanan's application for funding. Both the land and sea-lot required for the facility have been leased, at Campbell River, and the project already has approval from the Canadian Environmental Assessment Agency as well as a provincial referral....

B.C. salmon farmers have repeatedly expressed reservations about closed-containment technology, saying it is too costly compared to open pens. However, Buchanan says engineering studies show that the closed-pen design he developed in concert with Aquanet has comparable cost -- even before environmental benefits are factored in. "Conventional net cage systems with anchoring and all of that cost about $300,000 per hole," Buchanan said. "The capital cost allowance is about 15 years. Our tanks are about $700,000, twice the cost, however there are no nets and the tanks will last about 25 years." Buchanan's work has attracted interest from Skeena MLA Robin Austin, a New Democrat who has been selected as chair of a new government committee to examine B.C.'s aquaculture industry. ...
Posted at: Monday, November 28, 2005 - 07:39 AM -- Posted by: Jim Scott -- Permalink: (#)
---
Wednesday, August 10, 2005
Aquaculture
Nowhere is the fascist foundation of Canadian neoliberalism more evident than in the aquaculture industry
Key elements of classic corporatism: 1. The state comes before the individual 2. Planned industrial "harmony" 3. Government-business partnerships 4. Mercantilism and protectionism
Fish farming is farming, not fishing, and Agriculture Canada should be the lead agency overseeing it, says Canada's commissioner for aquaculture development. Yves Bastien says the aquaculture industry cannot meet its potential for providing a food source and economic development for smaller coastal communities under the Department of Fisheries and Oceans. He also urged Ottawa to devote more money for aquaculture.
- Scott Sutherland, Canadian Press, March 3, 2004
As budgets have decreased at DFO, the department has created more partnerships with industry says Bill Wareham, Acting Director of Marine Conservation Programs for the David Suzuki Foundation. "These staff shares are standard operating procedure now," asserts Wareham. "They really just give industry a freer rein. We'd like to see a clearer break between industry and government."
- cited by Tom Sandborn, August 9, 2005
DFO paid top official to work for fish farm boosters
Tom Sandborn
TheTyee.ca
August 9, 2005
For years, Ron Ginetz was the Department of Fisheries and Oceans' go-to guy on fish farm policy on the Pacific Coast. As Regional Aquaculture Coordinator on this coast from 1987 until 2000, Ginetz, a lifetime civil servant with more than three decades at DFO, was responsible for implementing government policy in a controversial industry. Make that a highly controversial industry: Critics say open-net farms along the BC coast endanger wild stocks by promoting sea lice infestations and letting loose competing Atlantic salmon, while concentrating toxins in the flesh of the farmed fish and polluting the sea bed with chemicals and excrement. That's why the news that Ginetz spent more than two years working for the
BC Salmon Farmers Association
, while continuing to draw a DFO paycheque, has drawn alarmed responses from BC environmentalists and salmon experts. "Appalling", "unprofessional" and "a conflict of interest" are some of their angry characterizations of the arrangement. ...
Background:
Paul Martin's government quick to the aid of aquaculture corporations
Salt Spring News
March 3, 2004
Four links. To be fair, Herb Dhaliwal started this giveaway-come-environmental disaster. Yves Bastien (the author of the March 1, 2004 report calling for the rewriting of the Fisheries Act so as to protect the aquaculture industry) was Dhaliwal's handpicked apparatchik. But the Martinites find this tailor-made to their fascist ideology of neoliberal-style planned capitalism and industrial harmony. We posted this comment, July 23, 2003.
For a hint of where the federal Liberal politicians stand in all of this, the Canadian Aquaculture Industry Alliance (CAIA) named its most prestigious industry award the Herb Dhaliwal Sustainable Aquaculture Award after Herb Dhaliwal who, as federal Minister of Fisheries and Oceans, acted as CAIA's agent against DFO scientists.
This item is one of the four March 3, 2004 links.
Economic Fascism
Thomas J. DiLorenzo
Association of American Physicians and Surgeons, Inc.
Pamphlet No. 1036, February, 1995
When most people hear the word "fascism," they naturally think of its ugly racism and anti-Semitism as practiced by the totalitarian regimes of Mussolini and Hitler. But there was also an economic policy component of fascism, known in Europe during the 1920s and '30s as "corporatism," that was an essential ingredient of economic totalitarianism as practiced by Mussolini and Hitler. So-called corporatism was adopted in Italy and Germany during the l930s and was held up as a "model" by quite a few intellectuals and policy makers in the United States and Europe. ... The word fascism may no longer be politically acceptable, but its synonym, "industrial policy," is as popular as ever. ...
Posted at: Wednesday, August 10, 2005 - 08:58 AM -- Posted by: Jim Scott -- Permalink: (#)
---
Wednesday, August 3, 2005
Aquaculture
Sea lice and lousy excuses
Rafe Mair
TheTyee.ca
July 31, 2005
Broughton Archipelago. Are a BC ministry and the DFO in cahoots to explain away wild salmon toll?
Normally I love a good conspiracy theory. Not this one, I'm afraid. A couple of weeks ago, I suggested that our governments are plotting to dust off the old plans and build a dam on the Fraser River, making us power and water rich in the bargain and that this explains why the provincial Ministry of Agriculture, Food and Fisheries (MAFF) and the federal Department of Fisheries and Oceans (DFO) are deliberately neglectful of our salmon resource. No salmon – no environmental concerns about a dam. Rafe's gone mad? Maybe but let me offer another bit of evidence to chew on. First, let me ask you to place your hand on the table with the fingers parted. Imagine that the four spaces are inlets and the fingers are the shore line or, in this case, closely knit islands. Imagine that out of rivers entering these inlets, every spring, come hundreds of thousands of tiny Pink salmon smolts en route to the ocean. Now imagine that as these little fish, in passing through the "fingers" to the ocean, must pass scores of fish farms containing hundreds of thousands of farmed Atlantic salmon which provide hosts for millions of sea lice. That, in a nutshell, is the problem with sea lice in the Broughton Archipelago. The solution is simple – get rid of these fish cages. Unhappily, around this issue has developed a modern Mad Hatters Tea Party involving DFO, MAFF, the fish farmers and Alexandra Morton, (who, like Alice, is the only one in the scenario who makes sense!) ... If that were the entire story, that would be bad enough. But what I think clinches my conspiracy theory is this – every single independent study, meaning studies by scientists that have been peer reviewed and published in prestigious journals, has confirmed Alexandra Morton's conclusions that the sea lice from the fish farms are slaughtering the salmon.
The DFO and MAFF and the politicians up to and including Premier Campbell are in denial – perhaps understandable considering how much the fish farm industry gives the Liberals every year. It should also be noted that the same thing happened in Norway, Scotland and Ireland. The last report on Broughton, by a blue ribbon scientific panel led by Dr. John Volpe of UBC, traced the lice directly to the responsible fish farms and these findings were published by the Royal Society in London. They've been supported by every independent scientist in the world who is familiar with the subject, including Dr. Dan Pawley of UBC, named by
TIME
magazine as one of the top 50 scientists in the world. What have the governments done in these circumstances? Notwithstanding the independent evidence, and having none of their own to contradict, they've nevertheless embarked upon a policy of harassing Ms. Morton, denying overseas reports and simply refusing to accept the independent evidence of our own independent scientists. DFO scientists, we have reason to believe, support the independent scientific findings but are suppressed by their politically controlled seniors. ...
Posted at: Wednesday, August 03, 2005 - 10:01 AM -- Posted by: Jim Scott -- Permalink: (#)
(3 Comments)
---
Aquaculture
Panel serves up wild salmon info
Julia Hollister Capital Press August 3, 2005

SAN FRANCISCO – A panel of fisherman, activists and scientists came together here last week to discuss the current shortage of wild salmon off the Pacific Coast and raise awareness of smart seafood choices. "Seventy-five percent of the wild salmon's life cycle is spent in a bay or estuary," said fisherman Pietro Parravano of Half Moon Bay. "And 85 percent come from the Sacramento River." But due to government's regulatory policies West Coast fishermen were not allowed to fish last month and the fallout was devastating to families that rely on salmon for their livelihood. There were 5,000 West Coast fishermen in the 1980s, but today that number has shrunk to 1,200. "Salmon is one of the most sustainable groups of fish and the stock from the Sacramento and Klamath rivers was there last month," he said. "Unfortunately politics had the upper hand." ...

The difference between eating farmed salmon vs. wild salmon came to the front burner at the meeting. There are no salmon farms allowed in California but elsewhere it is a $54 billion industry. "Salmon farmers often claim that their industry is increasing the world's supply of fish but in truth wild fish stocks are declining around the world," said Sophika Kostyniuk with the Coastal Alliance for Aquaculture Reform in Vancouver. "It takes between 2.5 and 3.5 kilograms of wild fish to make the feed necessary to produce one kilogram of farmed salmon." Farm salmon are raised in net cages placed directly in the ocean, they are basically floating feedlots. This provides the perfect breeding conditions for naturally occurring diseases and parasites to spread quickly, she said. Since many salmon farms are located along wild salmon migration routes, diseases and parasites, especially sea lice, can spread to the wild salmon as juveniles head out to sea or as adults return home to spawn. "Wild salmon range in color from pink to red because of the food they eat," she said. "Since farmed salmon do not benefit from these natural food sources, artificial colorants are added to their feed to make their flesh pink so they will be more appealing and marketable. "Consumers should think twice about eating farmed salmon."
Posted at: Wednesday, August 03, 2005 - 10:00 AM -- Posted by: Jim Scott -- Permalink: (#)
---
Monday, July 25, 2005
Aquaculture
What will we eat as the oil runs out?
This is not to say that our future has to be bleak. We might be able to make a transition into a simpler society. In fact, if we can concentrate our efforts on easing the decline and on building an equitable and democratic social system, we might manage to provide a comfortable existence for ourselves and for the generations to come.
- Dale Allen Pfeiffer
Not everyone is happy with the set of possibilities that the multinational corporate world provides. People are beginning to feel around for other choices. The world isn't going to look like Cuba - Cuba won't look like Cuba once Cubans have some say in the matter. But it may not necessarily look like Nebraska [or the Canadian prairies] either.
- Bill McKibben
"What Will We Eat as the Oil Runs Out?"
Richard Heinberg
Muse Letter
July 2005
A paper presented at the FEASTA Conference, "What Will We Eat as the Oil Runs Out?", June 23-25, 2005, Dublin Ireland. FEASTA (The Foundation for the Economics of Sustainability). Feasta aims to identify the characteristics (economic, cultural and environmental) of a truly sustainable society, articulate how the necessary transition can be effected and promote the implementation of the measures required for this purpose.
Food is energy. And it takes energy to get food. These two facts, taken together, have always established the biological limits to the human population and always will. The same is true for every other species: food must yield more energy to the eater than is needed in order to acquire the food. Woe to the fox who expends more energy chasing rabbits than he can get from eating the rabbits he catches. If this energy balance remains negative for too long, death results; for an entire species, the outcome is a die-off event, perhaps leading even to extinction. ... Let us briefly survey some of the current trends in global food production and how they are related to the increased use of inexpensive fossil fuels. ... Given the fact that fossil fuels are limited in quantity and we are already in view of the global oil production peak, the debate over the potential productivity of chemical-gene engineered agriculture versus that of organic and agroecological farming may be relatively pointless. We must turn to a food system that is less fuel-reliant, even if it does prove to be less productive. How we might do that is suggested by perhaps the best recent historical example of a society experiencing a fossil-fuel famine. In the late 1980s, farmers in Cuba were highly reliant on cheap fuels and petrochemicals imported from the Soviet Union, using more agrochemicals per acre than their American counterparts. In 1990, as the Soviet empire collapsed, Cuba lost those imports and faced an agricultural crisis. The population lost 20 pounds on average and malnutrition was nearly universal, especially among young children. The Cuban GDP fell by 85 percent and inhabitants of the island nation experienced a substantial decline in their material standard of living. Cuban authorities responded by breaking up large state-owned farms, offering land to farming families, and encouraging the formation of small agricultural co-ops. Cuban farmers began employing oxen as a replacement for the tractors they could no longer afford to fuel. Cuban scientists began investigating biological methods of pest control and soil fertility enhancement. The government sponsored widespread education in organic food production, and the Cuban people adopted a mostly vegetarian diet out of necessity. Salaries for agricultural workers were raised, in many cases to above the levels of urban office workers. Urban gardens were encouraged in parking lots and on public lands, and thousands of rooftop gardens appeared. Small food animals such as chickens and rabbits began to be raised on rooftops as well. As a result of these efforts, Cuba was able to avoid what might otherwise have been a severe famine. Today the nation is changing from an industrial to an agrarian society. While energy use in Cuba is now one-twentieth of that in the US, the economy is growing at a slow but steady rate. Food production has returned to 90 percent of its pre-crisis levels. ...
Related:
Drawing lessons from experience; The agricultural crises in North Korea and Cuba -- Part 1
Dale Allen Pfeiffer
From The Wilderness
November 17, 2003
So what happens to an industrialized country practicing modern agriculture when it loses its fossil fuel energy base? There are two countries where it has already happened: North Korea and Cuba. Both countries have little or no oil resources of their own, both relied upon the Soviet Union for their oil imports, and both experienced a swift and severe drop in their oil imports following the demise of the Soviet empire. While showing proper respect for the suffering of people in both countries, perhaps we can benefit from studying their examples. ...
What will you be eating when the revolution comes?
Bill McKibben
Harper's Magazine/Autonomy & Solidarity
May 11, 2005
Castro spent three decades growing sugar and shipping it to Russia and East Germany, both of which paid a price well above the world level, and both of which sent the ships back to Havana filled with wheat, rice, and more tractors. When all that disappeared, literally almost overnight, Cuba had nowhere to turn. The United States, Cuba's closest neighbor, enforced a strict trade embargo (which it strengthened in 1992, and again in 1996) and Cuba had next to no foreign exchange with anyone else - certainly the new Russia no longer wanted to pay a premium on Cuban sugar for the simple glory of supporting a tropical version of its Leninist past. In other words, Cuba became an island. Not just a real island, surrounded by water, but something much rarer: an island outside the international economic system, a moon base whose supply ships had suddenly stopped coming. There were other deeply isolated places on the planet - North Korea, say, or Burma - but not many. And so most observers waited impatiently for the country to collapse. No island is an island, after all, not in a global world. ... [It didn't happen.] Cuba [has] learned to stop exporting sugar and instead started growing its own food again, growing it on small private farms and thousands of pocket-sized urban market gardens - and, lacking chemicals and fertilizers, much of that food became de facto organic. Somehow, the combination worked. Cubans have as much food as they did before the Soviet Union collapsed. They're still short of meat, and the milk supply remains a real problem, but their caloric intake has returned to normal - they've gotten that meal back. In so doing they have created what may be the world's largest working model of a semi-sustainable agriculture, one that doesn't rely nearly as heavily as the rest of the world does on oil, on chemicals, on shipping vast quantities of food back and forth. They import some of their food from abroad - a certain amount of rice from Vietnam, even some apples and beef and such from the United States. But mostly they grow their own, and with less ecological disruption than in most places. In recent years organic farmers have visited the island in increasing numbers and celebrated its accomplishment. ...
Posted at: Monday, July 25, 2005 - 10:53 AM -- Posted by: Jim Scott -- Permalink: (#)
---
Tuesday, June 21, 2005
Aquaculture
Offshore fish farm proposal reveals yet again Bush administration an environmental wrecking ball
The sea ranch scheme will not relieve the strain we place on ocean production and ocean ecology through overfishing. It will exacerbate it.
Offshore fish farming threats need research
Editorial
Juneau Empire
June 19, 2005
Some argue that fish farms are inevitable and we need to jump on the aquaculture bandwagon so it doesn't take off without us. Many things are inevitable - such as crime and the introduction of lousy legislation - but it doesn't mean we need to support them. The Bush administration has proposed a bill that would allow fish farms three to 200 miles from shore. The idea is to spur U.S. fish farming to become a multibillion-dollar industry in the next 20 years. Offshore fish farms could include halibut, black cod, rockfish, red snapper and shellfish. It's understandable that other states, many of which have trashed their waters and decimated their wild fisheries, would support such a bill. But in Alaska, the one state where wild fish runs are still strong, such a law would be a devastating blow to commercial fishermen, already struggling to compete with fish farmers from other parts of the globe. The federal legislation is flawed for a couple of reasons. ...
The soft underbelly of sea ranching
Charles B. Miller
The Oregonian
June 20, 2005
The Bush administration is offering Congress a bill that would allow for "sea ranch" leases in the open sea within the 3,200-mile Exclusive Economic Zone off the U.S. coast. The sea ranch concept anticipates huge pens that would hold thousands of "roiling snapper, halibut or other fish" to be fed by automatic dispensers, according to
The Oregonian
's report ("Plan calls for vast sea ranches," June 8).
The Oregonian
asked several capable experts to comment, but none mentioned the soft underbelly of this fish-growing scheme. Fish that could command the top-dollar prices on the market anticipated by the idea are all high-level carnivores. They are not like seeds that you drill into the ground, which with some tending then grow food for us to harvest. They are not like cattle that walk about between fences eating grass, converting it to food. These fish eat worms, plankton and other fish; that is, they eat meat. They have to be fed protein-rich food that will neither grow in nor flow through open-sea pens in appreciable quantity. Those automatic food dispensers will have to be stocked with meat palatable to, say, snapper or salmon. Where will the sea ranchers get the tons of meat they will need to barge out to their feed hoppers between storms? Marine worms and plankton are very dispersed -- and therefore incredibly expensive to harvest. Ranch suppliers would have to depend on wild stocks of forage fish such as herring or anchovy, and maybe on squid or local krill -- the dietary mainstay of the wild fish we now exploit. These will have to be processed at great energy and expense and with antioxidant additives so that they will last in transport and in the hoppers. The sea ranch scheme will not relieve the strain we place on ocean production and ocean ecology through overfishing. It will exacerbate it. ...
Posted at: Tuesday, June 21, 2005 - 10:47 AM -- Posted by: Jim Scott -- Permalink: (#)
---
Thursday, June 9, 2005
Aquaculture
Bush regime seeks expansion of offshore fish farms
The move to open oceans to fish farming is attractive for several reasons, some analysts say. It moves fish farms away from the coast, where plumes of pollution from urban runoff can endanger the "herd." And it can make siting a farm somewhat easier, since it would draw less opposition from local residents uneasy about the potential for aquaculture pollution - in the form of waste from the fish - to foul beaches. Some environmentalists and marine researchers view open-ocean fish farming with a wary eye. They are concerned that because open-ocean farming is out of sight, it may slowly fall out of mind. Many of the species to be kept down on the aquafarm are top-of-the-food-chain meat eaters, which have the highest market value. But they also are voracious, requiring anywhere from three to 25 pounds of feed - read smaller fish or fish meal - for every pound of meat in the farmed species. Concerns also have been growing over the spread of parasites, such as sea lice, from farmed fish to wild schools that pass by, as well as over the results of genetic mixing between wild fish and their escaped farmed cousins.
- Peter N. Spotts
Bush seeks expansion of offshore fish farms
Robert McLure
Seattle Post Intelligencer
June 8, 2005
Calling fish farming a potential boon for consumers and the economy, the Bush administration yesterday proposed to massively expand the practice to waters as far as 200 miles offshore. Supporters in Washington, including a state senator who advocates for fish farmers, urged Congress to bless the idea. They said a likely result -- if fish-culturing methods can be perfected -- would be a cheap source of ocean-grown delights, such as black cod, in the Strait of Juan de Fuca. Critics answered that the aquaculture build-up is a get-rich-quick scheme destined to leave taxpayers subsidizing an industry that would pollute the ocean, serve up substandard fish and, ultimately, center its economic activity in Third World nations. ...
Offshore fish farms - a solution or a problem?
Peter N. Spotts
Christian Science Monitor
June 8, 2005
Fish farming has long been viewed as a way to help fill dinner bowls worldwide while easing the pressure on declining populations of wild ocean fish. ... The proposed legislation represents the latest effort to implement recommendations from the US Commission on Ocean Policy, which last fall sent the White House its blueprint for overhauling the approach the country takes to managing its vast offshore resources. ... The measure comes at a time of rising global demand for fish as a source of dietary protein, declining fisheries, and rising aquaculture efforts overseas. By 2030, less than half of the fish humans consume will come from wild stocks, according to United Nations estimates. Aquaculture will dominate. Global consumption is expected to reach 110 million metric tons of fish within the next five years. ... Sustainable aquaculture is possible if the right species and techniques are used, says William Mott, outgoing president of
SeaWeb
, a nongovernmental organization that supports sustainable aquaculture. If the motive truly is to meet demand for food, he says, more can be done with fresh-water species grown in urban areas close to their markets, rather than developing large marine feedlots offshore. ...
Alaskans greet federal fish bill with fire
Wesley Loy
Anchorage Daily News
June 8, 2005
Environmental groups, Alaska commercial fishing interests and politicians all panned the proposed law, which would create a process for farmers to apply for a permit to raise fish in federal waters. Commerce Department officials said farmers would have to abide by rigorous environmental regulations. Alaska's junior senator, Republican Lisa Murkowski, accused Commerce Department officials of failing to "consult adequately with communities and organizations concerned about the implications of fish farming." Murkowski recently introduced legislation to ban fish farming in federal waters pending studies on the potential for disease, pollution and farmed fish escaping and mixing with wild fish, causing genetic damage. Mark Vinsel, executive director of the Juneau-based trade group United Fishermen of Alaska, said his organization opposes all fish farming as an economic and biological threat to Alaska's abundant wild salmon, halibut and other fish. "In places where they don't have wild fisheries that are thriving, it may be a different situation," Vinsel said. "But here, we need to protect our wild fisheries. Fish farms, until proven otherwise, are a grave threat to wild fisheries." ...
Posted at: Thursday, June 09, 2005 - 08:33 AM -- Posted by: Jim Scott -- Permalink: (#)
---